October 25, 2018
Lately, I've attended various conferences and participated in a few events/ panels on a diverse set of topics with different groups (ranging from transportation to public policy to manufacturing and supply chain to consulting to universities/ students to women leaders). Aside from it being a whirlwind of fascinating conversations, I've seen a few themes emerge across every one of these events – disruption, innovation and global trends.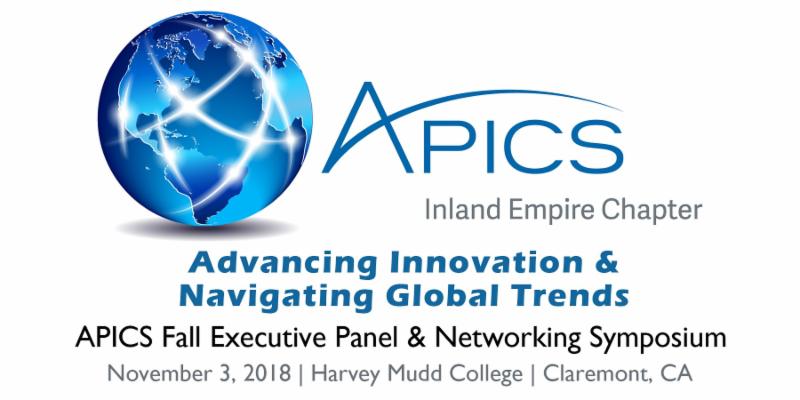 In today's Amazonian and Uberian environment, disruption is the new normal. For example, Mobility 21 (Southern CA transportation coalition), autonomous vehicles and Uber/Lyft type transportation/ trucking concepts arose. At the Association for Supply Chain Management (ASCM/ APICS) international conference, the idea the IoT, artificial intelligence, Netflix type disruption and more arose. And at the Society for Advancement of Consulting local event held at Harvey Mudd, almost 50% of the attendees were originally from out of the country and key discussions occurred around global trends and disruption.
Thus, I'd be remiss if I didn't invite you to join us at the APICS-IE executive panel & networking symposium with an amazing panel discussing "Advancing Innovation and Navigating Global Trends" on Nov 3rd at Harvey Mudd in Claremont. Click here to learn more and register.
One tip to implement this week:
Since disruption and innovation go hand-in-hand, there are many ways to think about this topic. One suggestion is to gather your team and business partners/ trusted advisors and brainstorm about what disruptions are likely to impact your industry. Also consider which disruptions are likely to come down the pike. Understanding your environment and how you are positioned is a great starting point – and you'll be better off than most organizations who might already be known in innovation circles to repeat this exercise on some sort of regular basis!
Additionally, join our unique networking and educational event on "Advancing Innovation and Navigating Global Trends". We have an amazing panel including the deputy executive director of the port of Los Angeles, the COO of the National Association of Manufacturers (NAM), the Chairman/ Dept of Surgery at the City of Hope, a senior executive in aerospace and a senior director of supply chain & operations. It should stir up some really engaging discussions on innovation and global trends! The event is on Nov 3rd in Claremont, CA from 8-11:30am. I hope to see you there. Learn more and register.