Proprietary Process for Fast-Tracking Growth & Profits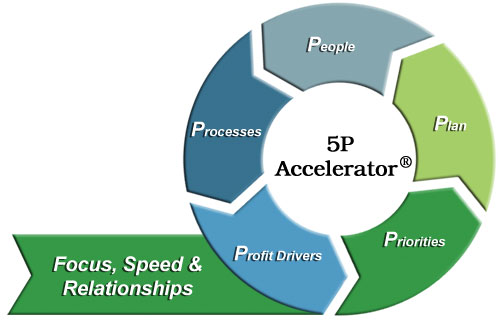 What Differentiates 5P Accelerator?
LMA Consulting Group Inc. brings an effective mix of strategic focus and excellence in execution with a passion for collaboration and partnership which often means rolling up our sleeves to bring unique ideas and solutions to our clients. We are at the forefront of developing processes to elevate business performance and deliver rapid improvement. Our 5P Accelerator® process fast tracks growth and profits. It also dives into how we are the force behind operational dynamics – our unique view on OD.
LMA's 5P Accelerator process brings the optimal mix of the 5 P's (people, process, plan, profit drivers and priorities) in order to achieve the best combination of strategic focus and execution to help executives grow their business and dramatically improve profitability. However, the 5 P's alone are still not enough for sustainable success. Thus, we add in a concentration on focus, speed and relationships to top off the 5 P's. We find that this combination of factors accelerates progress, supports growth and fast-tracks profits. To learn more about how we can leverage the 5P Accelerator in your business, send an email to landerson@lma-consultinggroup.com.
Brings Teams Together for Success

Lisa consulted with my company on projects in supply chain improvement and organizational improvement. In all cases she contributed in several valuable ways; her vision of the goal was crystal clear and well-articulated to the team, as a project manager Lisa was disciplined and organized, she kept all projects moving forward through many challenges. Lisa demonstrated the ability to work across organizational lines to bring people together and bring significant projects to fruition. I recommend Lisa Anderson for your most difficult assignments in operations and organizational improvement.
We provide business consulting services for supply chain and operations management and the implementation of strategy and management of supply chains.