Our Approach:
No two clients are alike, but oftentimes they seek the same outcomes—improving performance, reducing lead times and accelerating cash flow. We focus on a realistic strategy that delivers results. Through immersion into your business we become a part of your team synthesizing data and setting priorities to achieve your goals.
Our Results:
To view typical examples and results, see our case studies & testimonials
What differentiates us?
LMA Consulting Group Inc. brings an effective mix of strategic focus and excellence in execution with a passion for collaboration and partnership which often means rolling up our sleeves to bring solutions to our clients. We are at the forefront of developing processes to elevate business performance and deliver rapid supply chain improvement. If you are interested in fast-tracking results, give us a call to learn more about our 5P AcceleratorSM Process.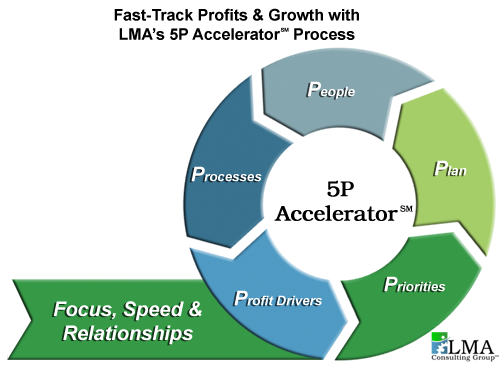 Our Service Lines:
The focus is always on elevating your business performance and partnering with you to accomplish this overarching objective:
Companies we've worked with:
Mission Rubber
Vista Professional Outdoor Lighting
Esterline Engineered Materials
QC Manufacturing
Enevate
Castle Metals Aerospace
Donaldson Filtration Solutions
Esterline Control Systems Mason
Goodway Technologies Corporation
Midpoint Bearing
US Aluminum & RACO Interior Products
Eckert & Ziegler
SEMA (Specialty Equipment Market Association)
Coast Plating Inc.
Stratecon, Inc.
Rudi Wiest Selections
Eliminator LLC & La Sierra Fire Equipment
International Aluminum Corp.
International Extrusion
Transtar Metals Inc.
PaperPak Industries
Chocolates a la carte
Eureka Aerospace
Business Intelligence Designs
ATNV
Coca-Cola Enterprises
Santa Fe Plastic
Paper Pak Products (Attends Healthcare)
Brings Teams Together for Success

I have known Lisa for 16 years in my capacity as Chief Financial Officer at both Paper-Pak Products and Transtar Metals, and based on her work, I would rank her as one of the best business leaders I have ever worked with.

Products

Click here to see Lisa's product offerings.