Why Do a Supply Chain Network Assessment?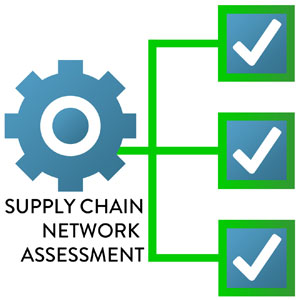 Supply Chain networks that are not set up to support scalable, profitable growth have a high likelihood of negatively impacting your customers, impeding your growth and consuming far more resources than ever imagined to sustain. Yet what is ideally mapped out one year is likely to change the next in today's Amazonian marketplace. This is where our expertise comes into play in assessing your supply chain network with an eye to the future, your customer base, your resource and cost infrastructure and your resiliency.
When is the "Right" Time?
Of course, the answer is "It depends". With that said, there are definite signs that it's time to assess your network. For example, If you have been considering any of the following, it just might be the time "now":
Evaluating whether to renew your lease
Thinking about moving to a lower cost facility or state
Considering whether to move closer to your key customers
Deciding if its time to scale your supply chain network up
Pondering if you have "too much" fixed cost in your supply chain network
Wondering if it makes sense to take the plunge and buy
Questioning if your supply chain network is ideally set up from a logistics perspective
Assessing if you should take the plunge with a 3PL as your employees transition out
Evaluating how much space you need to support your sales growth
Thinking about options to increase your storage capacity within your existing facility
Questioning where to set up or source manufacturing and distribution operations
Considering if you have the "right" supply chain partners on the bus
Evaluating where to position inventory throughout your supply chain for maximum benefit
Thinking about the impacts of new technologies such as additive manufacturing, IoT and AI
Wondering if you can continue to support traditional warehousing and e-commerce successfully
There's no doubt about it. These types of decisions will impact whether you are prepared to grow without sinking excessive resources and costs into trying to keep up with sales growth and avoid unhappy customers. On the other hand, upgrading "too early" is disruptive and yields little return. Thus, the trick is to know when to wait longer before upgrading your supply chain network without waiting "too long".
At LMA Consulting, we are expert in assessing your supply chain network and identifying the setup that will best position your company for profitable growth, whether that is tweaking the current network (no major investment required), upgrading your processes and/or your network or radically changing the network to meet changing business needs.
Don't Listen to Us. Hear What Our Clients Say
K Means, CFO, Coast Plating I Controller, Transtar Metals
Jim Cenname, President, US Aluminum
Boake Paugh, CEO West Coast Corporation
Right-Sized Supply Chain Network
"Lisa assessed and right-sized our US and Canadian distribution networks to maximize service while reducing inventory and increasing margins"
CEO, PaperPak
Guided us in Achieving a Monumental Feat
"Lisa helped us achieve a monumental feat - dramatically and strategically reducing inventory in key areas while not affecting delivery to customers. Lisa is top notch in her field."
Supply Chain Manager, US Aluminum
Unique Ability to Solve Complex Issues
"Lisa has a unique ability to resolve complex issues. She has a great problem-solving ability, coupled with innovative and creative thinking that yields bottom line results."
President, PPI
Rare Combination of Big Picture and Detail
"Lisa is very detailed oriented but also has the ability to keep her eye on the "big picture". Her knowledge and experience in all facets of supply chain management are exemplary. She exceeds her clients' expectations and delivers measurable, bottom line results."
Corporate Supply Chain Manager, PaperPak Industries