Why Operational Performance Matters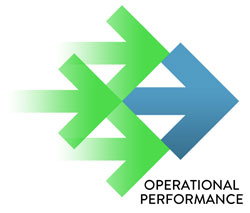 If your operational processes are not set up to support profitable growth, you'll be slow to react to customer requests and you'll be forced to add people just to keep up with sales growth. Neither is acceptable! In today's Amazonian environment, slow responsiveness to customers is the quickest way to lose business while adding people to support growth is not only challenging (as they can be quite hard to find) but unnecessary and wasteful.
Managing costs and satisfying customers are top of mind for Operations Leaders.
Often, the key is getting in front of the Board's cost directives to explain what will truly add value to the bottom line. That's where it is worth investing in experts who can make an accurate assessment of your operational processes, capacities (buildings, machines, workforce, space, skills), systems and resources (capabilities, cash) and your ability to scale and grow profitably.
Clients have said that our recommendations were invaluable in gaining Board alignment to focus on the "right" areas for bottom line results instead of the most popular (ie. cutting costs)
At LMA Consulting, we are expert in assessing your operational systems needs and identifying the type of investment needed – tweaking your operational processes or resolving operational bottlenecks, taking the next steps with upgraded tools and process improvements such as Lean or SIOP, or transforming your operational systems so that your people, processes and systems work in harmony to deliver superior results.
We have experience in the full scope of operational business processes as well as the most common manufacturing and distribution systems (ERP, MES, Demand Planning, TMS, WMS, VMI, CRM, e-commerce) supporting a systems transformation from soup to nuts.
Let us help you gain clarity and commitment for what will contribute the greatest value. Maximize your return on investment and minimize your risk by calling LMA Consulting today!
What Differentiates Us?
We are uniquely positioned to gain bottom line results by having three different viewpoints simultaneously:
A holistic view in design: There are countless combinations of people, skills, processes, sequence steps, systems and priorities. We bring a strategic viewpoint with a holistic view of business systems and a detailed understanding of how the pieces come together to design processes for maximum value.
A system view of down-the-line impacts: One of our unique talents is to be able to "see" several steps ahead so that we can help clients avoid the noteworthy potholes and pitfalls that will pop up along the way.
A financial view that avoids double counting and bad decisions based on traditional cost accounting: Although it seems apparent to avoid double counting cost savings benefits, focusing attention on sunk costs and patting yourself on the back for reallocating true costs, it becomes significantly harder to unravel as ideas, directives and synergies arise. With our financial background, we have an eye to where to focus to ensure the benefits carry through to the bottom line.
Don't Listen to Us. Hear What Our Clients Say
Boake Paugh, CEO West Coast Corporation
Chris Vansell, VP, Mission Rubber
Cheryle Steddom, CFO, CMS Circuit Solutions
Delivers Sustainable Results
"Lisa is a highly experienced supply chain professional with a deep understanding of operations who has demonstrated her ability to maintain focus and deliver sustainable results."
President, Rhodin
ERP Turnaround Vital to Success
"Lisa has a unique combination of big-picture perspective, with hands-on ability to implement change vital to the function of our enterprise. We went from suffering with manual work-arounds to succeeding with a fully-integrated business system."
Vice President, Donaldson
To see additional insights, visit our written testimonials webpage
Interested?
We are happy to stop by and talk with you about your situation. Contact us.
(We provide business consulting services for supply chain and operations management and the implementation of strategy and management of supply chains.)