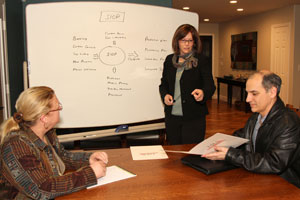 Over the last 20 years, executives in a wide range of organizations, from family-owned businesses to multi-billion dollar complex organizations, have relied on Lisa Anderson as a trusted advisor.
In this role, Lisa provides advice and guidance to executives who need a third party objective resource – a sounding board for reviewing plans, an idea source for planning implementation, a responsive expert for questions and advice, a support system for accountability, or just a devil's advocate to review potential key decisions.
A trusted advisor is like an insurance policy. It provides you exclusive access to expert counsel, so you can tackle the most critical challenges and seize emerging opportunities in real times. It's more than a coach or a mentor. A trusted advisor is the person in your court with the experience and resources for taking on crucial issues, making difficult decisions, and navigating complex terrain.
You choose how you want to work with Lisa – behind the scene, as an invisible confidante, or in a more public capacity. Choose whether you'd like Lisa to work solely with you or with other key members of your team as well.
You'll always have access to Lisa during normal business hours via phone within 90 minutes and email within 24 hours. You may also opt to meet face-to-face or in off hours, if that meets your specific needs. Most engagements require a minimum of 90 days.
Clients who work with us typically see these kinds of results:
Bold customer promises and profits
Enhanced business performance
Accelerated cash flow
Optimized supply chain network
Solid execution of business transformation initiatives
Condensed lead times from birth to earth in the supply chain system
Best fit processes to support your business objectives
Captured synergies and benefits of technologies and systems
Increased employee satisfaction/retention
More effective supply chain partner relationships
We offer the following types of Advisory Services:
Executive Advisor– for senior-level corporate executives
Family-owned– for executives at family-owned firms.
Private-equity Advisor – for executives of private-equity backed firms.
Consultant Advisor– for consultants and professional services firms
ERP Advisor – for firms undergoing a system selection and/or implementation process.
To learn more about Advisory Services options, contact Lisa at 909-630-3943 or landerson@lma-consultinggroup.com.
Lisa's expertise has been an inspiration.

Her help, guidance and encouragement have allowed me to grow my own business. She is a trusted professional and I highly recommend her leadership!