We help industry increase productivity, profitability, and performance with strategies and technologies to innovate, accelerate, and transform their businesses.
LMA Performance Advantage: 6 Steps to Better Business Performance
The LMA Performance Advantage is how we partner with our clients to successfully navigate change and deliver bottom line business results. We have ae eagle eye way of looking at all variables—some you didn't even think would matter—and synthesize, prioritize, and maximize strategies to provide a superior customer experience, enable scalable, profitable growth and minimize risk, disruption and confusion.
Our LMA Performance Advantage provides a roadmap to successfully navigate your business no matter your unique situation.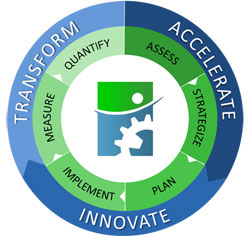 Assess
Strategize
Plan
Implement
Measure
Quantify
Productivity is pivotable in manufacturing and distribution and delivering competitively priced goods.
Align demand and supply improving manufacturing planning, materials flow and increasing operational efficiencies, up-time and service levels.
Improve sales forecasting and predictability of manufacturing, supply, and inventories.
Leverage technologies (ERP, IoT, AI, robotics, MRP) to increase throughput.
Profitability comes from scalable growth with predictable revenue and financials.
Increase business value to prepare for sale, transition to future generations, meet private equity goals, attract investment, or support navigating corporate expectations
Strengthen overall profitability by increasing margins, pricing competitively, analyzing customers and product categories and developing an infrastructure to support growth.
Performance happens when systems and infrastructure meet technology and improved process.
Provide a superior customer experience and build loyal customer base.
Scale the business with increased capacities, quick strategic decisions (offload, insource, pricing) and flexible capabilities.
Deploy technologies (ERP, business intelligence, CRM, e-commerce, etc.), assess and upgrade processes (sales, inventory, operations, new products, customers, suppliers, SIOP), and identify skills gaps to substantially improve overall performance.