What is the LMA Performance Advantage?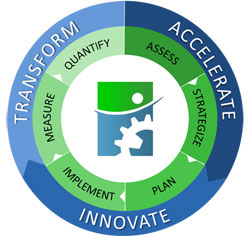 Quite simply, it is our unique, proprietary process for how we partner with clients to deliver bottom line business results.
Our passion is in maximizing multiple variables to enable scalable, profitable growth and business success. We find that businesses not only have thousands of priorities but in today's Amazonian environment, frought with elevated customer expectations, technology disruption and cost pressures, taking the eagle eye view of your business to synthesize the best combination of priorities yields maximum results. Our LMA Performance Advance provides a roadmap for navigating successfully no matter your unique situation.
Here is a sampling of our results. For a longer list, see our client results webpage.
LMA Results
Tier 1 Aerospace Manufacturer: Scales capacity to support sharp ramp up in sales growth
Value-add Distributor: Positioned supply chain network to scale for growth and profitability
Metals Service Center: Doubled inventory turns; accelerated cash flow
Aerospace Manufacturer: Elevated service levels from red zone to gold with #1 customer
Water Filtration Firm: Transformed manual processes to fully integrated, automated system
Food and Beverage Firm: ERP system evaluation to support rapid expansion needs
Building Products Manufacturer: Improved inventory accuracy from the 60s% to 98%
Don't Listen to Us. Hear What Our Clients Say!
K Means, CFO, Coast Plating I Controller, Transtar Metals
Chris Vansell, VP, Mission Rubber
Dan Vest, Co-owner, Midpoint Bearing
Influence Leadership Brings Results
"Lisa brought real results to the bottom line. She also works well with people and demonstrates exceptional influence leadership on any project she undertakes."
CFO, Transtar Metals
Delivers Sustainable Results
"Lisa is a highly experienced supply chain professional with a deep understanding of operations who has demonstrated her ability to maintain focus and deliver sustainable results."
President, Rhodin