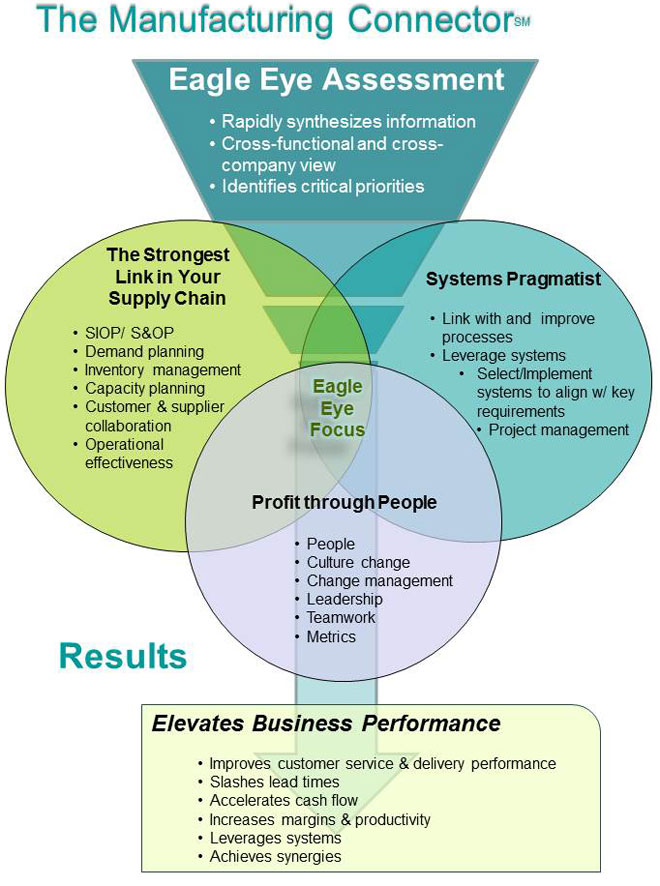 As a Manufacturing Connector(SM), I bring together all four of my service lines to partner with my clients to elevate business performance. It resonated with me immediately as it talks to what I'm passionate about and brings my unique expertise together under one brand:
Eagle Eye Assessment – rapidly assessing and identifying the "right", select few critical priorities for business success
Next, continuing with Eagle Eye focus by targeting the right combination and cross-section of key topics (The Strongest Link in Your Supply Chain) and connecting them with improvements in your people (Profit through People), processes and systems (the Systems Pragmatist) to expedite results.
Resulting in a dramatic return on investment – bottom line business results (enhanced service levels, accelerated cash flow and increased margins).
To delve into how the Manufacturing Connector(SM) works within each service line:
I see The Manufacturing Connector as connecting:
Strategy with execution — RESULTS
People with people
People with processes
Processes with systems & technology
Plans with financial outcomes
Strategy & plans with culture
Organizational development plans with outcomes
The right resources, expertise, processes and systems at the right time to not only rapidly resolve problems but to INNOVATE
Demand with supply and all functions in an organization with one plan (SIOP) to improve service, inventory turns & margins.
Customers, suppliers and supply chain partners
Knowledge and education in support of business and personal success
Trusted advisors to clients and colleagues to support business objectives
Down-the-line connections/ impacts with new thinking to AVOID potentially disastrous results (this hasn't always been popular but it is invaluable!)
Saving the best for last… Communications appropriately and effectively – not an easy task!