Consulting Services Utilizing our Propriety Approach for Leveraging SIOP to Drive Exponential Results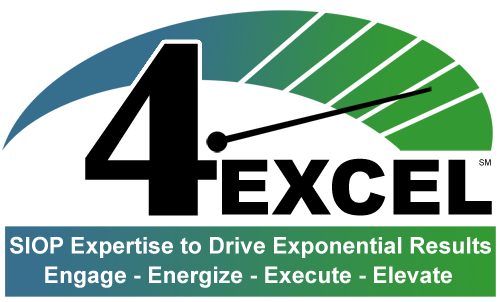 What Differentiates 4 EXCEL?
LMA Consulting Group Inc. brings an effective mix of strategic focus and excellence in execution with a passion for collaboration and partnership which often means rolling up our sleeves to bring ideas and solutions to our clients. We are at the forefront of developing approaches to elevate business performance and deliver rapid improvement. Our 4 EXCELSM approach leverages our unique version of SIOP (sales, inventory and operations planning) to drive exponential results.
LMA's services utilizing the 4 EXCEL approach focuses on the 4 E's of SIOP success:
Engage executive team in SIOP (sales, inventory, and operations planning)
Energize cross-functional teams inclusive of customers and suppliers (to align demand with supply)
Execute integrated business plans
Elevate business performance (growth, profit, working capital, customer service)
We have found 4 EXCEL to not only deliver extraordinary results but also to align teams inclusive of executives, individual contributors and external partners in a collaborative and engaged manner. Since one of the top executive priorities across ALL company sizes is attracting, retaining and developing top talent, 4 EXCEL becomes cornerstone to success. To learn more about how we can leverage 4 EXCEL in your business, send an email to landerson@lma-consultinggroup.com.
SIOP Development

Lisa helped us design and implement a SIOP program that not only dramatically improved our customer service levels with our key customers but also reduced lead times where it mattered most – both were instrumental in gaining customer confidence and setting us up to grow the business with new and expanded customer contracts.
We provide business consulting services for supply chain and operations management and the implementation of strategy and management of supply chains.