Proprietary Process for Driving Supply Chain Performance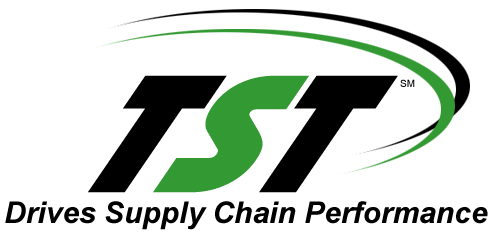 What Differentiates TST?
LMA Consulting Group Inc. brings an effective mix of strategic focus and excellence in execution with a passion for collaboration and partnership which often means rolling up our sleeves to bring ideas and solutions to our clients. We are at the forefront of developing processes to elevate business performance and deliver rapid improvement. Our TSTSM process drives supply chain performance.
LMA's TST process focuses on three key elements to supply chain performance:
Torque – how to get out of the blocks rapidly to achieve quick wins and gain momentum
Speed – in today's Amazon-impacted world, speed is king. The rest will be left in the dust.
Traction – how to maintain control of the critical success factors for supply chain success.
TST combines torque, speed and traction in the "right" combination to drive superior supply chain performance.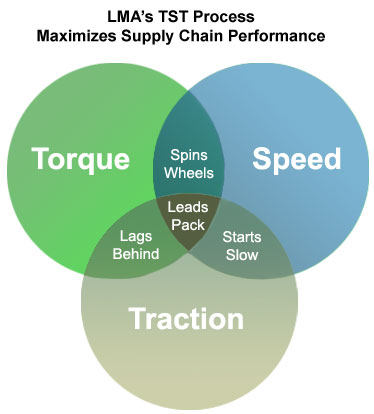 We find that organizations often have several initiatives in place; however, results can fall apart if the right mix isn't achieved.
If you have torque and speed but not traction, you'll spin your wheels. Unfortunately this is a common occurrence – time and resources are wasted. Instead, we design your people, process and system in concert and in alignment with strategy to add control into the equation.
If you have speed and traction but not torque, you'll have a slow start. This is one of the worst outcomes in today's Amazon-impacted business environment. Getting out of the blocks quickly can make or break success.
If you have torque and traction without speed, you'll lag behind. Certainly, this is not a recipe for success! If there is one factor in common across ALL of my clients, from small businesses to multi-billion dollar, global enterprises, spanning many industries ranging from aerospace to building products, it is that SPEED has become a "must" for success.
We help clients find that optimal combination of torque, speed and traction to drive supply chain performance and lead the pack. To learn more about how we can leverage the TST process in your business, send an e-mail to landerson@lma-consultinggroup.com.
The Strongest Link in Your Supply Chain

I have worked with Lisa over the past 10 years in several capacities; as a colleague, a mentor, and more recently as a customer utilizing her consulting services. Lisa is an extremely intelligent, hard-working individual with a great problem solving ability; coupled with innovative and creative thinking related to many areas and aspects of the product supply chain she has a unique ability to resolve complex issues. I would not hesitate to recommend her and would solicit her advice and input for issues arising in the future. Lisa is a true professional, in all aspects of the word.
We provide business consulting services for supply chain and operations management and the implementation of strategy and management of supply chains.