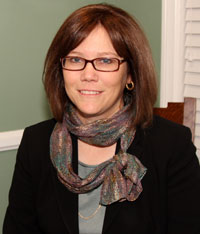 Ranked Number 16 in SAP's Supply Chain Influencers and recognized as one of the top 1% of consultants worldwide, Lisa Anderson has deep experience helping manufacturers and distributors maximize value.
Lisa is the founder and president of LMA Consulting Group Inc., a consulting firm that helps manufacturing and distribution organizations elevate business performance and maximize value. She is the author of the forthcoming book The Amazon Effect.
If it relates to improving the performance of a manufacturer, Lisa has done it. Her expertise encompasses the full scope of end-to-end supply chain business processes – from your suppliers' suppliers through your manufacturing operations to your customers' customers. Her unique talent resides in accompanying these processes with the appropriate organizational development, systems and financial expertise to help clients consistently deliver bold customer promises and substantial company profits.
She has architected leading edge, proprietary approaches for fast-tracking growth and profits, driving supply chain performance, achieving exponential results with SIOP (sales, inventory & operations planning) and ensuring ERP selection and design success.
Prior to founding LMA Consulting Group Inc., Lisa was the Vice President of Operations and Supply Chain of PaperPak, Inc. Her twelve-year tenure included transitions and promotions through the company transformation from a $100 million family-owned business, through a merger and acquisition of three businesses into one $350 million global company, followed by a management leveraged buyout in combination with an investment banking group.
With a blend of management, finance and operations, Lisa received her MBA with an emphasis in Finance from California State University Fullerton and her BSBA with an emphasis in Operations Management from the University of North Carolina at Chapel Hill.
She is the President of APICS Inland Empire, the #1 trade association for supply chain and operations professionals, Group Leader of the Ontario group of ProVisors, the leading community of over 4000 trusted advisors, and Innovation Awards Chair of the Manufacturing Council of the Inland Empire (MCIE) Manufacturers Summit. Lisa is also a member of the Society for the Advancement of Consulting (SAC) and the ACA Group Alliance.
In demand as a speaker for conferences such as the Global Supply Chain & Logistics Summit and the APICS International Conference, Lisa has been quoted and featured in a variety of online and print publications, including the Wall Street Journal, ABC News, tED magazine, Global Trade Magazine, Industrial Distribution, California CEO, American Journal of Transportation, ISM, AME's Target Magazine, Project Times, ThomasNet, World Trade Magazine and Industry Week.
Lisa has served as the Program Advisor for the Advanced Supply Chain Certification Program at Cal State University Fullerton's Extended Education and is a member of the Advisory Board for Norco College's logistics program. She is Student Case Competition Chair for the APICS Southwest district and has grown the competition from 3 teams from Southern California to 25 teams from around the world. She has also been a featured panelist at the University of Southern California's entrepreneurial studies program and for Pepperdine's capstone course for MBA with concentration in entrepreneurship.
Lisa is the author of Leverage Social Networks to Drive Business Results and was named as a top 100 supply chain blogger by SupplyChainOpz. She created the Southern California Harvey Mudd executive roundtables with the Director of Harvey Mudd's Manufacturing Practice and Engineering Clinic and has led over 25 webinars for the Financial Times' ExecSense.
She is a global traveler with many stops in Europe, Central America, Australia and North America including a summer session attending Oxford University. Lisa plans in as many stops as possible in New Orleans to enjoy a beignet at the Café de Monde. And, in recognition of her extraordinary tenacity to accomplish goals, her colleagues fondly refer to her as "pit terrier".
Brings Teams Together for Success