Aligning Demand with Supply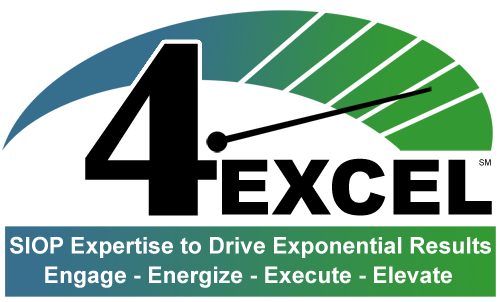 We are experts in enabling exponential results with Sales, Inventory and Operations Planning (SIOP). SIOP is much more than aligning demand with supply, customers with suppliers or sales with operations! It ensures the "right" capacity (human capital, equipment and machinery, buildings and storage, systems infrastructure, cash and financing) is where you need it when you need it and 'right-sized' to deliver an exceptional customer experience. Our proprietary process for how we achieve these results, our 4 Excel Approach, focuses on the 4 enablers for ensuring exponential results follow.
What Differentiates Our 4 Excel Approach

SM

?
The 4 Excel ApproachSM focuses in on the 4 E's or key components of achieving SIOP success:
Engage – engaging the executive team is the "be all, end all" of SIOP success. As Gallup has proven, highly engaged people outperform the rest by 147%. It is not a fluffy topic; it drives bottom line results as well as happy employees!
Energize – energizing cross-functional and cross-organizational teams to "get on the same page" achieves dramatically improved results. It surprised us at first; however, this tenet alone of the simple act of "getting on the same page" is impactful.
Execute – execution might be overused; however, we see no reason to re-name what drives success with integrated business plans. Strategies don't fail in formulation; they fail in implementation. Therefore, this focus is a "must".
Elevate – elevating business performance is the reward and result. We have not found another approach that is more successful at simultaneously maximizing growth, profit, working capital, and the customer experience.
Don't Listen to Us. Hear What Our Clients Say
Chris Vansell, VP, Mission Rubber
Kelly Ford, Aerospace Executive
Jim Cenname, President, US Aluminum
Qualitative & Quantitative Results
"We achieved quantitative and qualitative results within 6 months! Lisa successfully partnered with our team to implement SIOP/MPS process. She is responsive, prepared and ready to make progress at every juncture."
General Manager Aerospace Dynamics International
SIOP Success
"Lisa helped us not only dramatically increase service levels and bring our #1 customer back into the "good" zone but also lift margins, project inventory and cash requirements and increase employee engagement with SIOP".
Supply Chain Manager, Esterline Mason