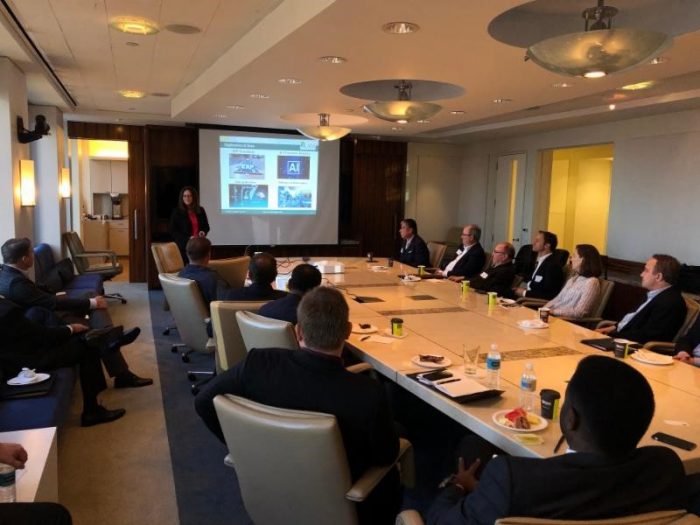 Lately, I've had quite the mix of on-site and remote events. So, it got me thinking about on-site vs. remote. Which is better?
Manufacturers' Summit

– I introduced the innovation awards and announced the winners at the recent Manufacturers' Summit. Could this be done effectively remotely? In my opinion, no!

Global Strategy Session – I also recently participated in a short check-in session with my global growth group. After resolving my video difficulties so that I wasn't blurry, it worked out perfectly. There is no reason I should go across the world for 3 hours!

The Society for the Advancement of Consulting

– My business partner, Linda Popky (in Northern CA) and I have participated on multiple Zoom calls with members from the U.S., Canada, Europe and the Pacific Rim to collaborate on increasing member value and related topics. We find these to be ideal remote settings yet we also have in-person

regional

and

global

events. You might find me sitting in my car prior to a client meeting on a Zoom call with Australia & Germany.

Client workshop with facilities across the U.S. and Canada to implement planning process upgrades – the reason I write this from Minnesota in sub zero temperatures is that this workshop is best done in person. With that said, we have weekly interactions remotely to implement successfully in-between these workshops (which occur about every 6 months). Since MN was chosen for March, perhaps AZ will be in August

ERP Demos – since I currently have several

ERP selection projects

, I have participated in several demos. Some need to be done in person to ensure project success and others would be a waste of time to attend in person. It depends!

Aerospace & Defense speech

– the picture shows that clearly I presented in person. Although they record the session for members to listen to afterwards, the value is far more significant with in-person interaction!
One tip to implement this week:

Don't just assume remote or in-person is always better. The answer is: "It depends". If you are bringing together cross-functional participants in a workshop-like setting, perhaps you should invest in travel to get together. On the other hand, if there is an expert who can participate remotely to contribute as needed, that also can be value added and cost effective.
Don't just do what you've always done. I used to drive 60+ miles each way to clients for a few hours frequently. Sometimes it was exactly what I should have done. Other times it was because I defaulted to doing what I typically do. Then one day, I tried to call or do the meeting via Zoom, and I realized the value was equal yet the wear and tear was now non-existent! Thus, I always ask myself about what will achieve the desired outcome. Sometimes remote is better. Other times, in-person is better. Use common sense.
Assuming you decide to test out the remote option, there are a few items to keep in mind:
Act as though you are sitting in a meeting, and don't allow distractions to take over.

Make sure you keep ambient noise down

Use video to your advantage so that you can show each other items or emphasize your communications with non-verbal language.

Test out technology in advance

Just give it a try. What's the worst that will happen?
And, keep in mind that in-person still provides value. The higher tech we become, the higher level of touch required!