Happy Thanksgiving to clients, colleagues, friends and family!
What better day than Thanksgiving to give thanks. The graphic below reminded me of "It's a Small World" at Disneyland which has always been one of my favorites. My Mom would always make it a great game to figure out where everyone was from, and I loved the uplifting song.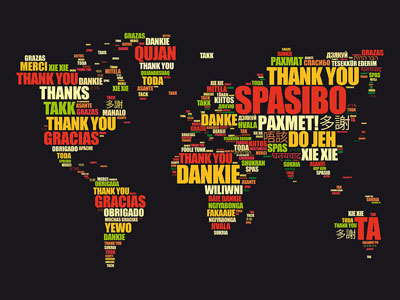 A BIG THANK YOU
It will be impossible to list everyone and so a BIG shout out to all my clients, colleagues, friends and family. I wouldn't be successful without my parents' encouragement. They thought I could do anything I wanted if I worked hard, and so I did just that!
A few from my career that pop to mind to mention from over the years….
Marge Wickens: Thanks to my first corporate manager from Coca-Cola Enterprises who saw good potential and gave me a fabulous start to my career. Linda, please make sure Marge sees this:-).
Becky Kolesiak: Although we haven't talked in years, I hope you'll read this and know that I appreciated working with you and your mentoring. I'm glad I got my MBA in Finance as you illustrated the importance of where money goes.
Dave Franklin: Another mentor related to Operations. I learned a lot from you and am glad we've kept in touch. A BIG thank you!
Mike Brown: Thanks to Mike for having the confidence to promote me to VP of Product Supply even though I wasn't 'older, male and a graduate from Harvard'. I love that you care about results!
My PaperPak team (Marty Ostrow, Bill Weber, Debra Daniels-Smith, Brenda Roberson-Brown, Jim Maguire, Liz Cruz Marlene Bradley, and more): There is no doubt that I wouldn't be where I am today without such a fabulous team. I learned a lot from each of you as well. Debra, I credit you frequently in figuring out how to handle people situations. And, Marty, you have personally created significant profit for my clients by me following your lead – no double counting cost savings :-)!
PaperPak colleagues & other folks who helped me start LMA Consulting – several of my team as well as Vicki Jeter, Paul Dearing, Jolene Myers, Rich Beu, Sandi Brooks, Wade Brooks, Ann Tatoian and more.
My LMA Advocates and LMA Futurists: People who have contributed to LMAs success and are proactive, innovative clients (stay tuned for 2021's awards soon).
Clients and colleagues over the years
My APICS/ ASCM Board of Directors – huge THANK YOU for advancing our profession
LMA Team Partners including Diane Garcia, Liz Cruz, Tony Martinez, Jesse Dalton, Cindy Orshonsky (you make everything look better), Susan Brunasso, Kathy McEntee, Pam Scrivner, Scott Herman and more.
I am certainly fortunate! Much appreciated! Hope you have a restful weekend with family and friends.