April 17, 2019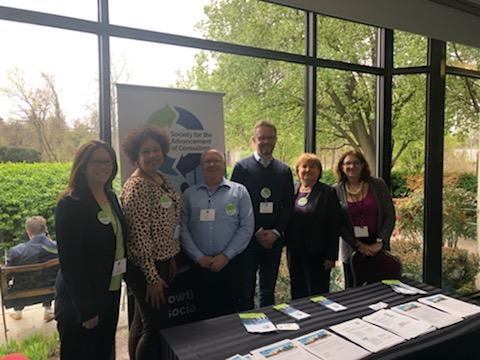 Do you think of yourself as a salesperson? For most of us, the answer is probably 'no'; however, every successful executive, manager, professional and person is a salesperson.
Last week, I participated in a consulting conference, and our Society for the Advancement of Consulting ambassadors (pictured here) filled the role of salesperson to spread the word on the value of SAC. We had a great time and many value-added discussions. I find the key to 'selling' is actually providing value; not selling people products and services they do not need!
When I think back, I have always been in sales even though I thought I had no idea whatsoever about sales at the time. The way I got my first job was talking about the value of a senior project and how it was applicable to performing a planning role. I had NO idea that this was actually selling but it is how I successfully landed a great job out of college. Early in my career, I found system settings that would make our Coca-Cola facility's process better, and I had to sell IT and others on why they should support this change. Later at a plastic injection molder, I had to sell management on why we should focus on certain inventory initiatives.
Lastly, as a VP of Operations of an absorbent products manufacturer, I absolutely spent 90% of my time selling my team on how they were valuable to the vision, suppliers on how they could have a part on creating a win-win, customers on how we could create collaborative vendor management inventory initiatives that would increase their service and profit (which would also improve our revenue growth, inventory and efficiencies), the Board of Directors on why we should focus efforts on material projects to drive profitable growth (even though they wanted me to focus on reducing labor costs instead) and the list goes on. In consulting, 80% of project success (partnering with the client to make sure results occur) relates to selling and positioning. After all, doesn't it all stem from successfully navigating change?
Think about your career and daily job responsibilities. I bet you are selling every day as well!
One tip to implement this week:
The key to success in sales is to provide value. As I read in a book by my consulting mentor when I decided to start consulting, selling consulting services is simply finding ways to provide value to clients by helping them to increase the value of their businesses. Somehow, increasing the value of businesses sounded FAR simpler to me than selling people on hiring me as a consultant (after all, who budgets to hire a consultant?), and so I went for it (and am celebrating my 14th year anniversary in May).
Of course, it isn't exactly that simple; however, it is absolutely true. The crux of all sales is in providing value. Think about when you purchase products and services. Why do you purchase? I used to think I was quite logical and not influenced by typical sales techniques; however, it is human nature that logic makes us think and emotions make us act. Although I am never tempted by clothes (except as I know I need to look decent to be successful), I realized I spent quite a bit of money on education to be successful in my consulting practice. Clearly, I saw the value and 'went for it'. How can you show value more often in your job, your company, and of your products and services?