Managing capacity during these turbulent times in a complex, volatile, long-lead time environment has proven quite the challenge. During the pandemic, sales volumes either dropped like a rock or skyrocketed with no middle ground. Most manufacturers have not been able to keep up with demand in the last year or two and extended, prolonged lead-times have become the norm. How can you thrive during this time of volatility, uncertainty, complexity, and ambiguity (VUCA)?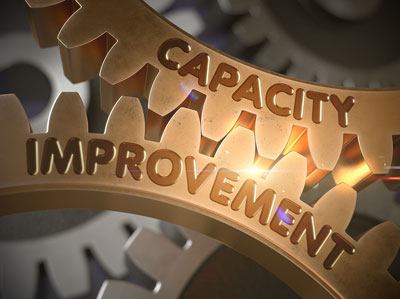 Expert Panel's Challenges & Opportunities
Not only is this an area that frequently arises in client projects since we work with several engineer-to-order (ETO), configure-to-order (CTO), and other complex manufacturing companies such as high-volume CPG (consumer products) companies, but I led an expert panel for NESCON (New England Supply Chain Conference & Exposition) on just this topic. We had experts from several diverse angles of the global supply chain:
Chevron: Shari Ruelas, General Manager Americas Commercial Products
Poly: Alex Bustamante, Sr Advisor to CEO & Board; Former Executive VP Global Ops
King's Hawaiian: Dan Raatjes, SVP & Chief Operations Officer
A few of the challenges that arose during the conversation:
People, people, people
Managing capacity when your product is selling at negative numbers
Figuring out how to navigate extended port delays
Keeping up with dramatic increases in volume
Trending Strategies for Success
A few of the common themes that arose during the discussion include the following:
Nearshoring: Companies realize they need more control over their supply chain and should locate manufacturing closer to the customer.
Supply Chain Optimization (Quick insource/ outsource/ offload/ change supplier decisions): During the pandemic, the successful companies quickly pivoted on their make vs. buy decisions. In fact, the successful companies insourced and outsourced simultaneously if needed to meet customer demand. For example, Poly did all of the above in addition to pivoting away from the Long Beach port and moved to a Mexican port and saved a month in lead-time.
Productivity & efficiency: The proactive responded to changing conditions and figured out how to gain productivity and efficiencies rapidly. Chevron did what had never been done before and made significant productivity improvements.
Scale rapidly: With proprietary intellectual property, scaling quickly is the key to success. King's Hawaiian is building multiple facilities simultaneously.
People, people, people: As is typical with every expert panel I've led over the years, it was unanimous that the key to success is considering your people as your #1 asset.
Technology advancement: Technology, innovation, automation, digitization
Check out our article on the best practices in capacity planning covering rough cut capacity planning, manufacturing capacity, supplier capacity, and logistics capacity. Unfortunately, the situation is quite simple. If you don't plan ahead and have the capacity to support your customers, your competition will.
Please keep us in the loop of your situation and how we can help your organization thrive during these times of volatility and disruption. There will be more winners created than at any other time than since emerging from the Great Depression. To gain additional ideas and insights on how to best navigate these volatile times and thrive, read our new eBook Thriving in 2022. Learning from Supply Chain Chaos. Download your complimentary copy.