I had the pleasure of representing the United States in the World Manufacturing Forum in thesession "Back to the Future: Manufacturing Beyond COVID-19". I talked about the fact that weare at a crossroads between efficiency/ costs and resiliency/ responsiveness, how to turn that orinto an 'and', how that relates to reshoring/ near-shoring, supply chain and sourcing changes andIndustry 4.0. When the video is available, I'll send a link. What fun! Next year, I wouldn't mindtraveling to Milan to represent us.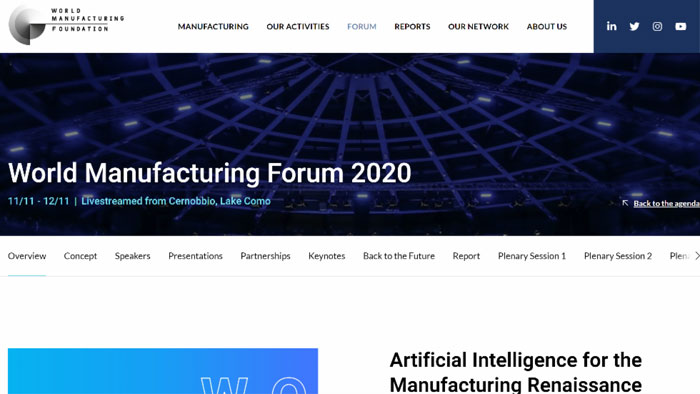 One Tip to Implement This Week:
A few of important points that came out in the key findings for a resilient manufacturing sector in the new normal include:
Resilient supply chains are on the rise: Not surprisingly, it has been determined that supply chains need to become more resilient to minimize future disruptions and improve long-term competitiveness in the industrial ecosystem.
SMEs are among the most severely affected: Small and medium size enterprises comprise a significant percentage of manufacturing companies and require support. Financing is at the top of the list. The pandemic has certainly brought up the importance of cash reserves.
Regions are gaining in importance: Just as the IEEP has been doing in Inland Southern California, it is being recognized that regions have an important role to play in supporting the manufacturing community. Collaboration with the region with connections to the state and national level has proven to be the best practice.
Digital experiences are increasing Understanding your customer preferences and buying behaviors is cornerstone to success. Choosing the right go-to-market model which is including supporting more B2B drop ships as well as B2C/ e-commerce continues to increase in importance.
Proactive management of demand: It was nice to see that the World Manufacturing Forum recognized what I've seen as essential to clients' success. Figuring out how to better capture demand volatility so that you develop a flexible and predictable demand plan has proven critical so success.
Reshoring/ Near-shoring (Regional sourcing): No doubt about it. Executives have realized the risks involved in an extended supply chain. As labor costs diminish in importance to the total cost equation and responsiveness increases, clients are reevaluating sourcing and bringing production back to the U.S. as well as closer (Mexico in particular as well as Central and South America is on the rise).
Digitalization and Industry 4.0 Rule: If you are focused on enabling technologies that support the customer experience, scalability and efficiency, you'll surpass your competition.
Consider these strategies to provide bold leadership and make an impact. Read more about these types of ideas to navigate and successfully emerge post COVID-19 in my free eBook Future-Proofing Manufacturing & Supply Chain Post COVID-19. Please send your feedback and stories. I will incorporate into an article, video or interview.
Stay safe & healthy.