Originally published on Expertclick on November 29, 2017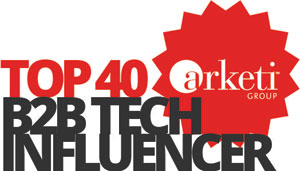 CLAREMONT, CALIFORNIA – November 29, 2017 – Supply Chain Expert and Consultant, Lisa Anderson, MBA, CSCP, CLTD, has been named in the Top 40 B2B Tech Influencers by the arketi group, a high-tech PR and digital marketing firm located in Atlanta, Georgia. Focused on B2B technology, public relations and digital marketing for business-to-business products and services, arketi believes in influencer marketing. Identifying top tech influencers furthers their strategies.
"I am delighted to be recognized by the arketi group. Leveraging technologies is key to supply chain success" commented Lisa Anderson, President of the LMA Consulting Group. Technology has provided instantaneous access to data, maximized operational performance and enabled organizations to deliver Amazon-like customer experiences. "All aspects of organizations are connected these days. The use of technology allows for collaboration, transparency and transformation. The 'Internet of Things' is driving rapid change by making information more accessible and interconnected. Robotics is making local products more affordable. And, machine learning is maximizing efficiencies. Those clients thinking proactively about technology are thriving while the rest will be left in the dust" she said.
Ms. Anderson recently facilitated the Fall 2017 Symposium of APICS Inland Empire Chapter (APICS-IE), the premier professional association for supply chain and operations management and will facilitate Rancho Cucamonga Chamber of Commerce's Manufacturers' Forum both titled: Leveraging Technologies for Supply Chain success. Instantaneous data, autonomous vehicles, total visibility, block chains, increased capacity, 'Uberization' of transit, machine learning and transformative movement were key discussion topics around the dynamics spirited by technology.
About LMA Consulting Group – Lisa Anderson, MBA, CSCP, CLTD
Lisa Anderson is the founder and president of LMA Consulting Group, Inc., a consulting firm that helps manufacturers and distribution organizations innovate, elevate and transform their end-to-end supply chain to align with customer demand. Ms. Anderson has been named a Top 40 B2B Tech Influencer by arketi group, a 50 ERP Influencer by Washington-Frank and ranked in the top 46 most influential in Supply Chain by SAP. She recently published, I've Been Thinking, an inspiring collection of 101 strategies for creating bold customer promises and profits. She is a regular content contributor on topics including supply chain, ERP and SIOP and is regularly interviewed and quoted by publications such as Industry Week, tED magazine and the Wall Street Journal. For more information, to sign up for her Profit Through PeopleTM Newsletter or for a copy of her book, visit lma-consultinggroup.com.