Originally published on PR Newswire on April 29, 2020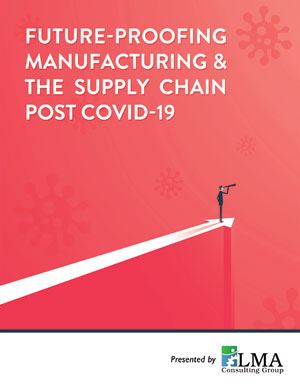 The importance of the supply chain came into focus as shelter-in-place orders and the COVID-19 epidemic shifted the demand and supply for newly deemed essential items. "Manufacturers have long understood the intricacies of the supply chain. What has recently emerged is the key role that the supply chain plays in every aspect of a business. From sourcing strategies and managing supplier and logistics partner relations to proactively forecasting demand and managing customer service and inventory expectations, the end-to-end supply chain is much than production or operations. A wrinkle in the supply chain can throw a company off its axis," commented Ms. Anderson.
"We have been talking about manufacturing and the supply chain being at a critical juncture and the need to become agile, proactive and exponentially innovative. Little did we know that we would be in the spotlight to meet the challenge under these circumstances. We have seen manufacturers respond to critical needs, like ventilators. We have seen the supply of toilet paper and other paper goods disappear, highlighting the importance of the supply chain. We are already seeing manufacturers building a new framework to future-proof their supply chains for the future. This experience, while sometimes painful, has provided trial by fire and a means to step ahead for a different future," Ms. Anderson said. LMA Consulting Group works with manufacturers and distributors on strategy and end-to-end supply chain transformation to maximize the customer experience and enable profitable, scalable, dramatic business growth.
Future-Proofing Manufacturing & the Supply Chain Post COVID-19 provides practical go-forward business concepts than can be applied to any manufacturer, distribution or supply chain organization.
Ms. Anderson is an active member of the Inland Empire Economic Partnership, was recently appointed to the Department of Commerce, District Export Council of the Inland Empire and is sought out by organizations such as Oracle for her manufacturing and supply chain insights. Future-Proofing Manufacturing & the Supply Chain Post COVID-19 can be downloaded here.
About LMA Consulting Group – Lisa Anderson, MBA, CSCP, CLTD
Lisa Anderson is the founder and president of LMA Consulting Group, Inc., a consulting firm that specializes in manufacturing strategy and end-to-end supply chain transformation. She focuses on maximizing the customer experience and enabling profitable, scalable, dramatic business growth. Ms. Anderson is a recognized Supply Chain thought leader by SelectHub, named a Top 40 B2B Tech Influencer by arketi group, 50 ERP Influencer by Washington-Frank, a top 46 most influential in Supply Chain by SAP and named a top woman influencer by Solutions Review. She recently published, I've Been Thinking, 101 strategies for creating bold customer promises and profits. A regular content contributor on topics including a superior customer experience with SIOP, advancing innovation and making the supply chain resilient, Ms. Anderson is regularly interviewed and quoted by publications such as Industry Week, tED magazine and the Wall Street Journal. For information, to sign up for her Profit Through PeopleTM Newsletter or for a copy of her book, visit lma-consultinggroup.com.