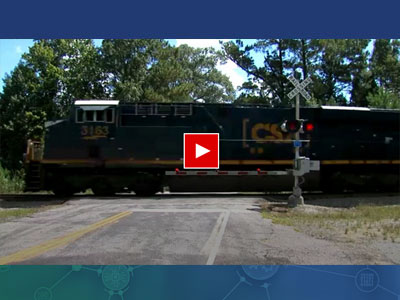 Originally posted by JILLIAN SMITH | The National Desk, Wednesday, November 30th 2022
House Speaker Nancy Pelosi said she's putting everything on track for an early vote to quickly send the bill to the Senate and have the legislation approved before the Dec. 9 strike deadline.
If the more than 100,000 affected rail workers walk off the job with no deal, the U.S. economy could face another devastating blow.
Supply chain consultant Lisa Anderson says many manufacturers are concerned that the strike could cause further disruptions to their manufacturing operations.
"You know, there are concerns about all the food that moves by rail and in the automotive industry, there are concerns about what moves you know, the cars and the parts," Anderson said. "So, there are concerns across the board about further supply chain disruptions."
She says she is advising many companies to be prepared in case a deal isn't reached by the deadline.
FILE – Surveyors work next to Canadian Pacific Rail trains which are parked on the train tracks in Toronto on Wednesday, May 23, 2012. Approximately 3,000 Canadian Pacific Railway conductors, engineers, train and yard workers represented by the Teamsters Canada Rail Conference will be returning to work on Tuesday, March 22, 2022, after an agreement was reached between the railroad operator and union. (Nathan Denette/The Canadian Press via AP, File)
"Definitely advising them to take proactive action with anything critical like let's say materials that they are counting on to keep manufacturing operations going," said Anderson. "If it's critical, if it's the only source of supply and advising them to, you know, send it by truck or send it by plane."
The major challenge with the potential strike concerns products, materials and components that keep manufacturers running. It's not yet known when Americans could be dealing with any supply chain disruptions but Anderson says it's possible that the impacts could be seen within a week following the strike, if not sooner.
"In some industries, we're going to start to feel supply chain disruptions immediately because folks are stopping their transport via rail in advance because they know that they're not going to be, you know, available potentially available at the right time," Anderson said.
She says if rail shipping stops, it would hit across the board.
"Unfortunately, the products that are transported by rail go into countless products," Anderson said. "Certainly in the food industry, there's going to be, you know, grain and some of the other food items that are transported via rail it's going to show up immediately."