January 5, 2018
I attended a compelling ProVisors presentation for manufacturers and distributors on the latest trends in technology for manufacturing. Our presenter, Craig Young, discussed the latest advances in technology and what manufacturers should be thinking about to succeed in the New Year. Robots were front and center in the discussion.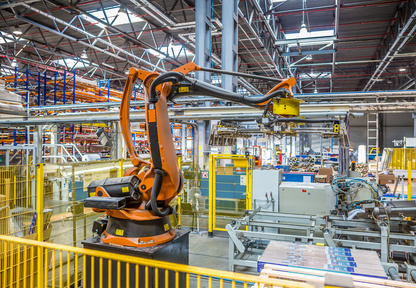 Fully automated packaging lines should be quite popular with a typical 1-2 year payback – and that is prior to thinking about a vast array of non-financial advantages. Next up on the robots front is automatic storage and retrieval systems – although a longer payback of typically 5 years, they can bring a host of advantages and increase competitiveness. And, last but not least, we discussed laser guided vehicles with a typical 10-20 year payback with different advantages.
What Should We Consider and/or What Impacts Could Arise?
Clearly, throwing robots at every problem is like Maslow's hammer and the nail quote (if all you have is a hammer, everything looks like a nail). Don't do it!! However, obviously, from the opposite perspective, there is something quite compelling about robots to achieve manufacturing objectives – profitable, scalable growth.
Robots aren't new. I clearly remember a colleague at one of my jobs from 25 years ago when I was in planning/ purchasing/ inventory at Santa Fe Plastics (a plastic injection molding operation that produced consumer products like the jars for face cream) who spent 70% of his time working on a robot. There were clear cut advantages, even way back then! Although a lot of executives think about robots from an automation and cost savings perspective, there are more important advantages such as keeping up with growth, replacing people as they retire (since it is a tough market to find good manufacturing resources), 24/7 focus and more. One of my current clients designed a robot that works around-the-clock. Since putting the robot in place, they are able to keep up with customer requirements, have precise quality control and have maintained their long-term, high-skilled resources on first shift. A definite win! Others have brought manufacturing back to the U.S. – and even to California.
However, robots shouldn't be viewed as a hammer. Think about what you need to accomplish, and evaluate robots as one tool / solution to a business issue. We are in the age of the customer experience. Will robots help or hurt you with this endeavor? Depending on your specific situation, it could go either way. Think before jumping.