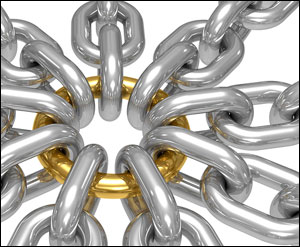 In today's new normal business environment which is characterized by volatility, lackluster sales, customers wanting "more for less – and NOW" and a talent shortage admist high unemployment levels, companies are turning to the supply chain to deliver RESULTS.
Our view of the supply chain is from our supplier's supplier to our customer's customer inclusive of all elements in-between. It's no wonder executives are turning to their supply chain leaders to find out how to:
Compress lead times
Elevate service and delight customers
Improve margins & profitability
Accelerate cash flow
Increase productivity and profitability
The Strongest Link in Your Supply Chain helps clients with these types of programs to achieve results:
Leverage supply chain systems to collaborate with the full supply chain
Identify and resolve operational and supply chain bottlenecks
Improve process design with an eye towards increasing productivity and collaboration
Implement Sales & Operations planning (S&OP / SIOP)
Develop collaborative planning programs with customers and suppliers
Design innovative logistics programs and supply chain networks
Shorten the product introduction process
Collaborate with suppliers and align sourcing with business objectives
The Strongest Link in Your Supply Chain

I have worked with Lisa over the past 10 years in several capacities; as a colleague, a mentor, and more recently as a customer utilizing her consulting services. Lisa is an extremely intelligent, hard-working individual with a great problem solving ability; coupled with innovative and creative thinking related to many areas and aspects of the product supply chain she has a unique ability to resolve complex issues. I would not hesitate to recommend her and would solicit her advice and input for issues arising in the future. Lisa is a true professional, in all aspects of the word.
To learn more and read about examples and case studies, visit my Articles, Client Results and Case studies pages.