Our most successful clients are constantly thinking about how to thrive in ever-changing, volatile conditions. They cannot afford to wait to see what is working for their competitors and then go "all in". Instead, only those who are resilient, innovative, and thinking five steps ahead will thrive in the next decade.
Thus, they are constantly evaluating the marketplace, their industry, impacts related to the geographies they serve, and changes impacting their supply chain partners. They are looking for what trends might impact their business and if there are opportunities they should pursue. In addition, they are scanning the environment for potential bottlenecks and risks that could negatively impact their plans and assessing strategies to mitigate any serious risks.
We see our role as staying ahead of the curve so that we can help manufacturers and value-add distributors proactively navigate these volatile times while growing the business, increasing EBITDA, and accelerating cash flow. Thus, we've developed a proprietary process to incorporate the following:
Industry Best practices: incorporating the best strategies that drive proven results from industries as diverse as aerospace and defense, building and construction products, food & beverage, and life sciences will allow you to use proven techniques for the 80% while focusing extra attention to shine on the 20% that is your unique differentiator
The Advantage of Size: whether incorporating the nimble, entrepreneurial spirit of a small or medium size company, the results focus of a private equity backed company to the rigorous process orientation and cross-training advantage of a large, complex, global organization, your organization will gain.
Global Trusted Advisor: including viewpoints from expert advisors from diverse disciplines (financial, legal, business), global communities, and trade and professional associations, you'll gain valued insights instantaneously.
Practical Results: And, most importantly, we've bounced these against "what works", is immediately pragmatic and has delivered rapid results.
5P Accelerator(SM) is our proprietary process that fast-tracks growth and profits.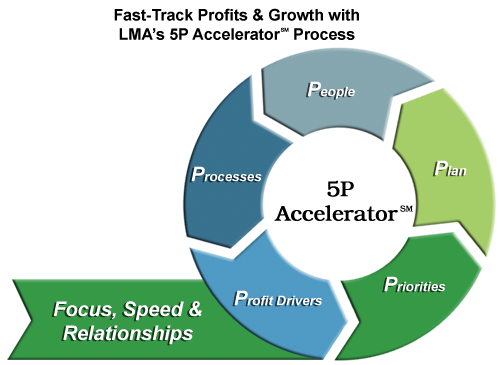 Our 5P Accelerator(SM) focuses on the core factors of success:
People: Success begins and ends with people. Clients that consider people their #1 asset far surpass the results – and more importantly, the engagement of their people than those who see them as costs.
Processes: Systems, processes, and technologies enable the standardization and automation of best practices while also accounting for the ability to tailor the process on the fly to support changing customer requirements and market conditions.
Plan: There is the "right" mix of planning the work; working the plan. Analysis paralysis and getting lost in plan details will lead to quick failure; however, on the other hand, jumping into action before ensuring you have a directionally correct plan will cause you to sprint on a hamster's wheel getting nowhere.
Priorities: No two products, customers, or tasks are created equal, and if everything is a priority, nothing will be a priority. Since focus drives 80% of success, prioritization becomes essential. Think through benefit, impact, urgency, the rate the issue is improving or worsening, and sequencing when evaluating priorities. Choose no more than 3 critical priorities to focus on simultaneously.
Profit drivers: To ensure bottom line results, you'll need to identify profit drivers. Search for those levers you can pull that will increase pricing power, reduce key cost components, apply technology and automation to increase margins, and that will differentiate you from the competition and accelerate growth.
As you roll out the 5P's, success will start to follow; however, to accelerate results and ensure sustainability in your rollout, it will be important to also pump up your wheel by understanding the power of focus, why speed is more important than perfection, and how relationships will drive your end-to-end supply chain success, and you will fast-track growth and profits.
Contact us if you are interested in leveraging 5P Accelerator(SM) at your organization.
Updated as of April 20, 2022