We are thrilled to introduce our S&OP webpage with everything you need to know about Sales and Operations Planning (also known as SIOP, Sales, Inventory and Operations Planning or IBP, Integrated Business Planning). You'll find sections:
What is S&OP?
How do you benefit from SIOP?
Why implement SIOP?
Client success stories
Articles about SIOP
Videos and podcasts about SIOP
And more….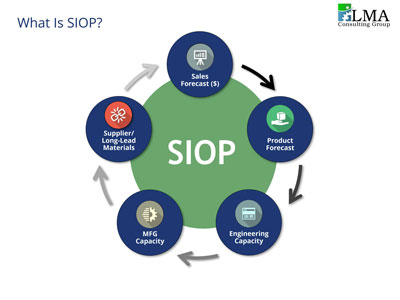 Why Should We Care?
In today's inflationary, supply disrupted world, it is no longer "good enough" to be good at strategy or execution. Instead, you must be excellent at both. Using SIOP is a critical vehicle to ensure the appropriate strategy decisions rise to the top to get addressed, AND it provides the appropriate information and collaboration to set your operations and supply chain teams up to execute successfully. Finally, if you utilize our best practices of SIOP and related planning processes, you'll expand SIOP to your end-to-end supply chain with your customers and suppliers and bridge the gap to your planning processes to ensure you'll thrive during these volatile times.
Thus, from a strategy viewpoint, you'll have the appropriate information to determine if you should reshore, nearshore, offload, source new strategic partners, vertically integrate, diversify your geographical footprint, adjust capacity and resources, modify inventory objectives, and more. Additionally, from an execution standpoint, you'll have the information, collaboration and plans to bridge the gap from strategy to execution so that you can not only survive but thrive during these volatile times.
Please keep us in the loop of your situation and how we can help your organization thrive during these times of volatility and disruption. There will be more winners created than at any other time than since emerging from the Great Depression. To gain additional ideas and insights on how to best navigate these volatile times and thrive, read our new eBook Thriving in 2022. Learning from Supply Chain Chaos. Download your complimentary copy.