"SIOP" stands for Sales, Inventory, Operations Planning (SIOP). Depending on the industry or organization, you may also hear it referred to as "S&OP" or Sales and Operations Planning. Sometimes, it is even referred to as "IBP" or Integrated Business Planning. Typically, they mean the same thing. The most important words to emphasize are planning and alignment.
In S&OP, the goal is to have Sales, Operation, R&D/ New Products & Finance, all planning together. The mission is to align a sales plan and the associated operations plans, to provide superior customer service and profitability.
Today we're going to explain everything you need to begin an S&OP process. Here's what we'll cover:
How do you know if you need a SIOP process?
What does a SIOP process look like?
What are the benefits of SIOP?
What do I need to implement a SIOP process (CEO must read)
How long will it take to implement a SIOP?
Who can help us implement a SIOP?
Additional resources for SIOP (Next steps)
How Do You Know If You Need a SIOP Process?
If your organization is asking the following questions, you need a SIOP process:
What is our budgeted sales forecast?
What types of products do we plan to sell in the next 6, 12, 18, and 24 months?
Which customer forecasts, quotes, industry trends and market intelligence should we consider?
What staffing resources and training plans do we need to support the sales forecast?
What kind of machine and equipment capacity does our Operations team need?
What storage, distribution, and transportation capabilities and capacity do we need?
What supplier capacity and agreements are required to support the sales forecast?
What inventory level and working capital is required to support our plans?
Should we change what we make vs buy (offload, outsource, insource, reshore, nearshore)?
Do we need to modify our manufacturing and supply chain footprint?
Such questions allow an executive team to formulate a strategy for delivering an agreed upon sales, inventory, and operations plan.
What is a SIOP Process?
Typically, a S&OP process looks out 12-24 months, allowing for both strategic and tactical decisions to be made. At its core, S&OP will result in a sales plan, an operations plan (manufacturing, purchasing, distribution, logistics, staffing), an inventory plan, and related financial plans (capital, cash, P&L) to support business plans.
Our most successful clients create an "Operational Rhythm," depicted in this chart: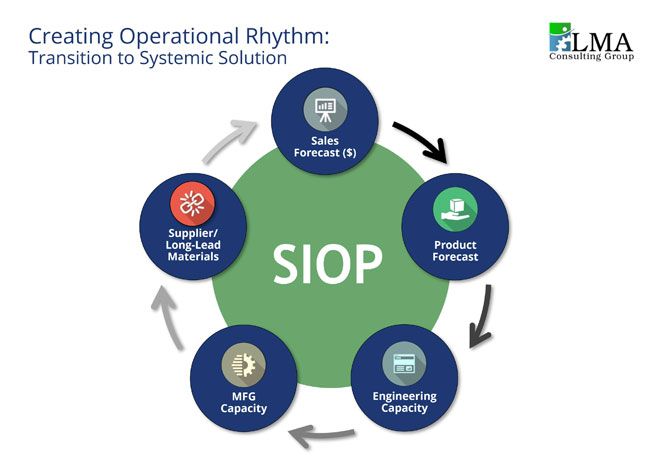 SIOP should include the following process steps with a minimum of a demand planning meeting, supply planning meeting, and an executive meeting.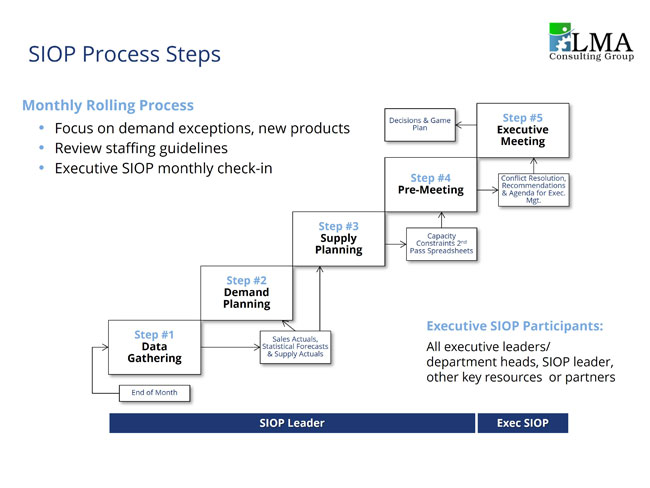 What Are the Benefits of SIOP?
Implementing a S&OP process allows the organization to integrate core processes to scale and achieve financial goals. Listen to an LMA client talk to the benefits of implementing a SIOP process:
SIOP results in these types of benefits:
Improves the predictability of the revenue plan
Reduces risks and costs to supplying the revenue plan
Gains predictability, consistency, and stability in business planning
Creates involvement & engagement across the organization
Develops a consensus forecast and provides the best picture of future demand
Supports customer growth and the ability of the organization to scale
Increases customer service levels (OTIF, lead times)
Improves operational efficiencies and performance
Increases supplier performance and cost structure
Increases margins, EBITDA and working capital
Cultivates an operational rhythm
Balances sales, inventory & operational plans
What do I need to implement a SIOP process (CEO must read)
You likely already have everything you need to begin the SIOP journey.
We recommend you don't wait for the perfect software or tools to begin. Sure, an advanced ERP, supply chain planning, and/or business intelligence software could prove useful. But we have several clients who have used Microsoft Excel to successfully support SIOP and gain significant results.
Instead, think of these resources and key items that will be needed for SIOP:
Collaboration – SIOP will only work if all the stakeholders are committed to participate.
Executive Champion – For SIOP to be effective, there needs to be someone in the executive position who supports the process to help obtain key resources and information.
SIOP Leader – If you have a SIOP leader you could assign as a project manager in-house, you'll be in an ideal position. If not, you can assign a point person to coordinate the process internally and gain external assistance to provide the expertise for an interim period. Not all SIOP processes are alike. Some require a full-time leader and others are successful with a part-time focus.
Key stakeholder input – Your champion/ team should interview key stakeholders and sponsors to ensure the process will achieve key objectives for the organization and provide meaningful insights for decision-making.
Assessment – Your organization will need to assess the state of your demand and supply business processes, compare them to the desired end state processes, and identify gaps to be addressed to support the rollout of SIOP. For example, the assessment will cover the current state and base requirements for the future state of your demand, supply, capacity, visibility, inventory, etc. The assessment results will guide the process on bridging the gap between supply and demand.
Pilot Process – You'll want to put together a pilot that you can roll out within a reasonably quick period of time for a group of products, customers, or facilities/ divisions so that you can test your SIOP process and modify as required before rolling out across the organization.
IT Support and Data Analyst – There is always a lot of data to sift through as part of the SIOP process (ERP, spreadsheets). Knowing how to extract the appropriate data, synthesize data from a directionally correct point-of-view, and turn data into insights will be key to success. With that said, you don't want to let data become a bottleneck to progress. You'll want to identify the appropriate IT and/ or data specialist support (internal or external) to help navigate the process.
Although you need to have a plan for these key items, you do NOT need perfection to start. In fact, our most successful clients use the Pareto principle and take quick, directionally correct steps forward, and continually modify and incorporate key learnings and/or changing conditions along the way.
How long will it take to implement SIOP?
It depends. The answer will be dependent on the following:
Your SIOP resources and plans to address the key items needed.
The size, complexity and scope of your organization, network (plants, distribution, suppliers, etc.), products, customers, processes, systems, data, etc.
Typically, these types of timeframes are achievable for a mid size SIOP rollout:
Assessment – 4-12 weeks depending scope and complexity
Design and rollout of a pilot SIOP process – 2-3 months
Rollout of the SIOP process – 6-12 months depending on several factors
Expansion & upgrades/ advancements to the SIOP process – 3-12 months depending on several factors
Create sustainability in the SIOP process – this can typically be completed on a parallel path with the expansion and upgrades
Who can help us implement SIOP?
There are a few different ways to obtain help in implementing SIOP:
Internal Expert – Several clients have identified a SIOP leader internally to lead the process. This alternative typically requires a full-time position when assessing, designing, piloting, and rolling out SIOP. Thus, we find this solution more frequently in mid-to-large organizations with multiple plants and complex processes.
Consultants – Many of our clients chose to hire outside help to assess, design, pilot, rollout, and/or create sustainability for SIOP processes. This can be critical if there is limited existing knowledge of how to successfully design and implement SIOP processes within the organization. Many clients also hire outside help to accelerate progress and supplement internal resources. Read LMA Consulting Group's book SIOP: Creating Predictable Revenue & EBITDA Growth for why you might need SIOP and how to implement the process.
Where Do We Find Resources for Implementing SIOP?
To learn more about how to leverage S&OP/ SIOP in your organization, visit our SIOP resource webpage, sign up for a complimentary discussion on SIOP readiness, and/or contact us to be added to our distribution list to receive a complimentary eBook on SIOP (to be released June 2022).