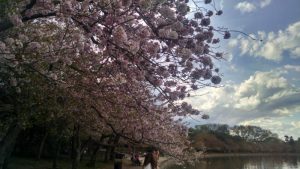 I was in DC this week for a conference. My theme last week was on continuous learning, and I put that into practice this week. Walked away with several ideas. It just so happens to be in "cherry season" in DC (see below). This is what got me thinking about time because the cherry trees are beautiful but only in blossom and last for 10-14 days. How ridiculous is that? Talk about a condensed tour season for cherry blossoms! Perhaps that's why all the hotels were booked….
Thus, cherry trees made me think about the impact of time in our work life as well. If there is one common theme I hear from executives, it is that TIME matters – there isn't enough time in the day; customers are demanding quick deliveries; month-end close must be rapid for quick decision-making, etc. I guarantee if you take too long to make decisions, you will miss opportunities. When you are 80% ready, GO! Sure, sometimes you'll be wrong but you'll gain many more successes that would be missed opportunities than you'll experience in failures.
One tip to implement this week:
The nice thing about time is that it is not a resource; it is a priority. We cannot increase or decrease the number of hours in a day; however, we choose where we spend our time – a priority. Thus, one easy tip that might be hard to implement is to stop whining about the lack of time! Instead, think about where you are spending your time. Even track what you are doing for a day – hour by hour.
Did you waste much more than you thought? Reallocate your time to what will drive results – your A tasks. Ignore your C's – you might never get to them; however, wouldn't it be better to miss a C than an A because you started with what was easy vs. what should be your priority? Also, consider this: Find a non-essential activity you can cut 15 minutes from on a daily basis. It will be pretty easy if you create that hour-by-hour log. If you do that for a year, you'll have found 91 hours!