August 20, 2018
I attended a ProVisors social of miniature office golf last week. We had great fun (thanks to James Valmonte and Kit Mac Nee for arranging such a great social). As you'll see, there was much creativity in setting up golf holes in an office setting. I like the hazards especially the water holes! Although I can hang in there with scramble golf, I didn't fare as well with mini office golf but who can complain about winning a booby prize.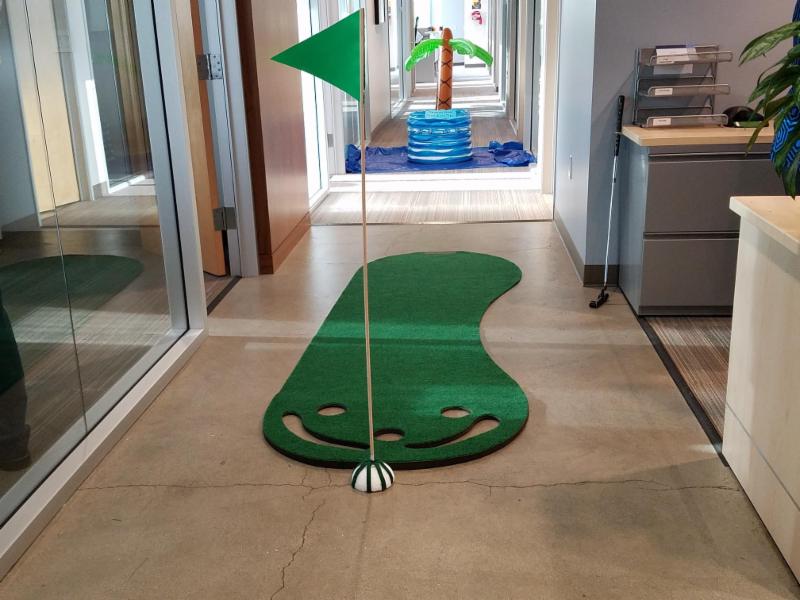 No matter your skills in golf, it was enjoyable. It is also a great way to get to know your colleagues better. People do business, partner on projects and contribute to success of those they know, like and trust. It happened while we were playing golf – a business referral transpired. When have you thought about getting to know, like and trust your colleagues, customers and /or suppliers?
One tip to implement this week:
You don't have to be as creative as designing an indoor miniature golf event; however, why not think about how to get to know, like and trust your colleagues, customers and suppliers better? It is a progression. Clearly, you cannot like someone if you don't know them, and you are unlikely to trust them if you don't like them. Start at the beginning and think about ways you can really get to know your colleagues.
Ask questions and listen. Pay attention and take notes. Have you noticed how you feel good when someone is taking notes on what you have to say? Next look for ways to create the situation such that you'll develop a 'like' for your colleagues. Miniature office golf is a silly activity that is entertaining, and so it helps to facilitate the process of getting to know one another and 'like' each other. There are also countless things you can do to improve your likeability. Start by thinking about the other person. Make it "all about them" and you are likely to be the star. Brainstorm at least 3 ways and try one to start. See how it goes and modify as you go. Let us know how it goes.