Clients, Colleagues, Business Partners & Friends,
As you know from our recent newsletter, we are providing several resources for businesses and individuals to help navigate this coronavirus pandemic AND prepare for when business ramps back up. Manufacturing and supply chain professionals have a particularly challenging job as we navigate how to meet customer needs, keep the business running during these volatile times (or moving forward in whatever way possible) and prepare for the future.
Because we wanted to provide strategies, ideas and tips for how to navigate through this period successfully, we have sponsored the Association for Supply Chain Management (APICS) Inland Empire Chapter's "Navigating Through Volatility" webinar series. The APICS Inland Empire Chapter has been working hard behind the scenes to bring together resources that can further support your efforts in a webinar series designed to bring practical perspective, guidance and information on a range of topics to manufacturing and supply chain leaders.
Click here to watch the webinars.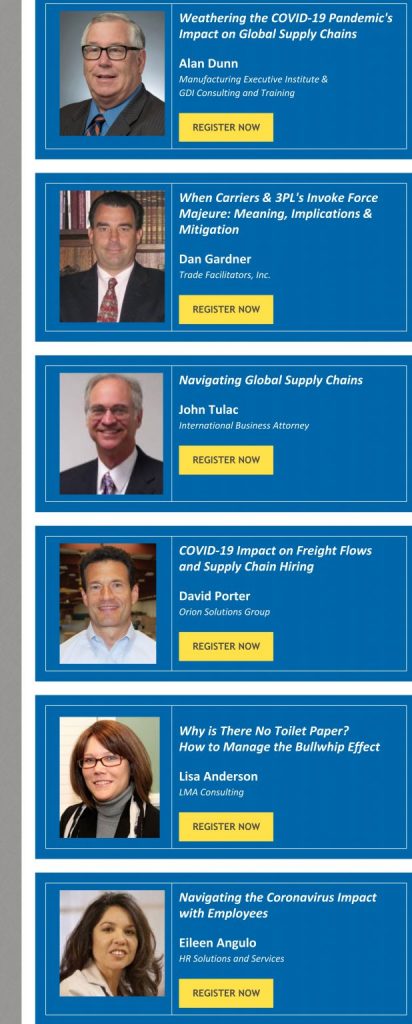 For more information about our upcoming webinars, visit the APICS Inland Empire website.
We will be adding webinars as we confirm speakers. If you are interested in a topic that you do not see, please let us know so that we can reach into our networks to find an expert in that area. You can register for the webinars using the registration links above or with the links included on our website.
At LMA Consulting Group and APICS Inland Empire Chapter, we are here to provide practical value and resources to our clients and members. We hope you find this webinar series of value during these unprecedented times and wish that you and your families are safe and healthy.
Lisa Anderson
President