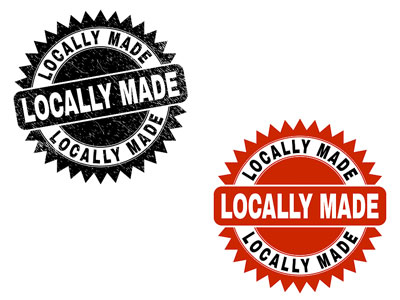 In thinking about the surge to local for an interview for an SAP Insights article "For Resilient Supply Chains, Think Local", there is no doubt the pandemic has pushed manufacturers to re-think their extended supply chains. When they suddenly couldn't support key customer needs, manufacturers and distributors went into triage mode. However, as one client described, they were willing to fly product to support customers; however, in order to get product from Asia to California, it was routed through Europe and got stuck in another pandemic delay. Thus, they spent considerably more yet the product was delayed longer than the original shipment was delayed.
On the other hand, another client had a local supply chain and was able to rapidly adjust and meet changing customer needs. It has certainly made executives think. These pandemic induced delays and disruption to customers has added fuel to the fire. As the Amazon Effect has been in full force the last several years, it was already making clients re-think the responsiveness of their supply chain to changing customer conditions. The tariffs added further fuel to the fire because the total cost of most value-add products is already in alignment between China and the U.S. (and lower in Mexico). Thus, the tariffs were starting to prompt executives to reevaluate capital investments to prepare for the future. The pandemic has flipped the equation on its head. Local is in vogue! Reshoring is on the rise.
What Should We Consider and/or What Impacts Could Arise?
Certainly, since executives are not only reevaluating their extended supply chain but actively transitioning to a more local or regional supply chain, it will cause significant disruption to the status quo. Start thinking about your situation:
How are your suppliers doing? Is their business likely to improve or decline?
Should you transition a portion of your supply base to be local?
What are your local and regional capabilities?
What is your industry doing?
How will these changes impact your transportation and logistics needs?
How will your supply chain partners be impacted due to these types of changes?
What moves should you make now given your current supply chain? How should these strategies change?
Quickly reassess your situation. Rapidly evolve to successfully navigate changing conditions and GET AHEAD of what's coming so that you aren't constantly playing defense. Instead, proactively being offense.
Read more about these types of topics in my eBook, Future-Proofing Manufacturing & Supply Chain Post COVID-19. Gain ideas and strategies to reemerge in 2021 and thrive long-term. If you are interested in gaining an expert assessment and path forward tailored to your company, please contact us?
Please share your stories, challenges, ideas and successes.