I went to Finland to see the northern lights, or the aurora borealis. Getting there is no piece of cake. We flew through London, took a 2-3 hour flight to Helsinki, Finland, and then took another flight to northern Finland (almost another 2 hours) and then drove 40 minutes to the resort (of course, north). It isn't for the faint of heart with temperatures in the negative numbers, requiring 6 or 7 layers minimum to allow you to stay outside for short bursts of time (although not very long as you'll start growing icicles), but the experience is worth it!
We went on a snowmobile aurora hunting experience (and nearly froze but saw amazing lights) and went aurora hunting in a car (definitely more comfortable). Part of the reason for coming to Finland is to stay in igloos so that we could see them from the hotel as well! All I can say is I'm glad I chose to spend the extra money for the igloos attached to a cabin with a fireplace!! During the day, there are lots of unique options such as riding in a husky or reindeer sleigh. I thought the huskies were adorable and just never stopped running and so included a view from my sleigh. Thanks to Paul for steering us through the course!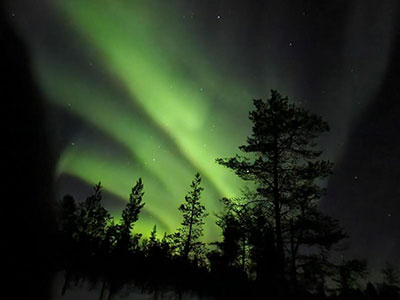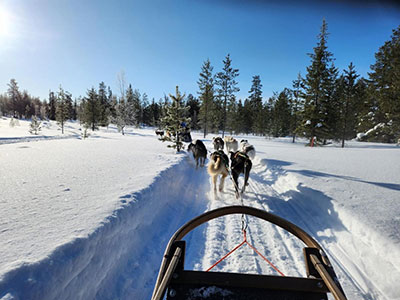 Stacking the Deck for Success?
You cannot control everything; however, you can stack the deck so that you can be more likely to succeed. Seeing the aurora borealis is hit and miss since it is up to nature; however you can stack the deck. Go to the artic circle to one of the best places to see them (such as Finland). Visit during the time of year you are more likely to see them (November through March). Stay for at least 3 nights to have a better opportunity of avoiding cloudy nights. Go to a place where they will wake you up when the northern lights are visible. And, you will have stacked the deck in your favor. It isn't guaranteed but it is more likely. Luckily, we saw them!
It is hard to control variables in business. In today's volatile business environment, there are simply too many issues that could arise. For example, the collapse of Silicon Valley Bank causes uncertainty in the financial markets and increased the need for liquidity. Additionally, Russia, China and Iran (let alone North Korea) are creating instability throughout the world, impacting exchange rates, ease (or lack thereof) of doing business, causing shortages of key commodities and more. Train derailments and other supply chain challenges. And, new technologies like ChatGPT are transforming industries. Instead of waiting for one of these many issues/ disruptions to arise and disrupt your business, stack the deck in your favor. You will be more likely to succeed.
How to Stack the Deck in the Current Business Environment?
Given everything going on in the world, a few priorities to help you stack the deck for success include the following:
Maintain liquidity: Ensure you have access to liquidity. There will be more opportunities than ever before to invest as the proactive companies grow and the weak diminish.
Right-size inventory: As goes hand-in-hand with maintaining liquidity, right-size your inventory to free up cash flow yet service customers. Utilize best practice demand and supply planning processes and implement SIOP (Sales Inventory Operations Planning) processes to ensure success. Get your complimentary copy of our new release, SIOP: Creating Predictable Revenue and EBITDA Growth to learn how to achieve success.
Retain key talent: The successful are those with access to key talent to best navigate these tumultuous times and take advantage of critical opportunities. Know your A players and treat them as your most important asset. You'll find that there is nothing more important.
Take control of your manufacturing: Do not leave your manufacturing in countries that can be considered our enemies. Who do you think they will prioritize when something goes wrong in the world or if there is a shortage of supply of a key material?
Be resilient: How can you respond to changing conditions quickly? Should you manufacture closer to your customers? Should you have backup sources of supply? Should you dual source critical materials?
Be technologically astute: Roll out the appropriate technology to allow you to attract and better serve your ideal customers in a way that is more efficient, productive and profitable.
Pay attention to data: If you pay attention to changing circumstances and trends in your data and utilize predictive analytics, you can steer proactively instead of driving by looking in your rear-view mirror.
Process upgrades: Utilize best practices, tailor to your organization, and educate and engage your organization.
Please keep us in the loop of your situation and how we can help your organization stack the deck to not only survive but also to be prepared to take advantage of the vast opportunities to come in the next several years. One great way to start your journey is to roll out a SIOP process to better navigate the volatility and uncertainty. Learn more about how to use SIOP to succeed during volatile times in our new eBook SIOP (Sales Inventory Operations Planning): Creating Predictable Revenue and EBITDA Growth. Download your complimentary copy.