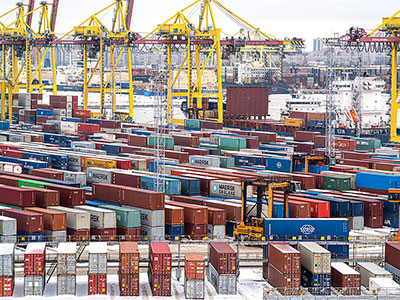 Lost Volume at the West Coast Ports
According to PMSA (Pacific Merchant Shipping Association), the five big West Coast ports have lost volume – 702,083 fewer loads and empties were handled in January and February 2023 than in the same period pre-pandemic in 2019. This equates to close to a 16% reduction. Specifically, the Port of Long Beach was off by 18.7% from January 2019 which was the lowest volume of inbound loads since January 2012 (except for 2015 when labor disputes created issues). The inbound volume is even worse at 20.6% at the San Pedro Bay port complex. These are significant differences, and successful clients are paying attention. Instead of responding, these clients are creating these changes.
Volume Is On the Move Eastward
PMSA reported that the East Coast ports grew business by 5.6% since 2019, surpassing the West Coast ports volume. The Gulf Coast ports started from a small base but grew by 49.1% since 2019. Clearly, volume is on the move eastward.
What Has Caused the Move?
The smart are reconfiguring their supply chain to succeed in the year's to come. Specifically, we see smart executives moving volume for the following reasons:
Threat of port strike / labor disputes: Executives are worried about the potential for a strike and/or other negative impacts from labor disputes. According to the Wall Street Journal, labor tensions are increasing in stalled talks at the West Coast ports. There are several issues being negotiated, and the two parties still seem to be far apart. For example, automation is a major issue in labor negotiations. On the other hand, US ports rate low for automation overall. According to APM Research Lab, the US ports are the lowest ranked ports in total port hours per ship call whereas Saudi Arabia and China are in the highest ranked group.
Service failures during the pandemic: Executives remember the agonizing service issues and delays they experienced during the pandemic, and they are taking control of their customer experience. Some are re-routing goods through the Panama Canal to the East Coast ports, others are shipping via air, etc.
Inventory gluts: Purchasing groups panicked when service failures, delays and shortages were commonplace, and overordered. On the other hand, it wasn't "all their fault" because demand signals were showing ever increasing volumes as customers also thought JIC (just-in-case) was a much better strategy than JIT (just-in-time). Unfortunately, unless you follow proactive, intuitive SIOP (Sales Inventory Operations Planning), also known as S&OP and specifically demand planning processes, you will order the "wrong" products. Thus, there is an inventory glut of the "wrong" products in the "wrong" place at the 'wrong" time.
Reconfiguring manufacturing operations: As clients realize that they can no longer be dependent on China and other non-friendly nations to supply critical manufacturing goods, they are reconfiguring and reallocating production. Volume has been moving to Vietnam for many years, and India has been gaining steam in recent years. Thus, products have been moving across the Indian Ocean, through the Suez Canal, potentially stopping in the Mediterranean or Europe, and across the Atlantic to the East Coast. Others are taking matters into their own hands and reshoring production to the US and near-shoring production to Mexico / Latin America.
What are the Successful Doing?
The successful are taking control of their supply chain and proactively figuring out how to pivot and evolve to ensure growth and success. Thus, they are in essence creating this disruption; not responding to this disruption. On the other hand, moving volume isn't always the best option. Review your situation, understand what your ideal customers will need, and CREATE a supply chain to serve your customers successfully, profitably and with the least amount of cash (inventory) tied up unnecessarily.
Our best clients are reallocating manufacturing, reconfiguring logistics, innovating and creating completely new solutions, leveraging technologies in new ways, and flipping the status quo on its head. What got you "here" (in the last few decades) will not "get you there" (to a successful future) anymore. The world is changing, and the resilient are pivoting, reconfiguring, and thinking differently to stand above the crowd.
Please keep us in the loop of your situation and how we can help your organization stack the deck to not only survive but also to be prepared to take advantage of the vast opportunities to come in the next several years. One great way to start your journey is to roll out a SIOP process to better navigate the volatility and uncertainty. Learn more about how to use SIOP to succeed during volatile times in our new eBook SIOP (Sales Inventory Operations Planning): Creating Predictable Revenue and EBITDA Growth. Download your complimentary copy.