If you don't have a modern ERP system that will support your business growth and changing customer requirements that also supports your ability to scale profitability and with greater levels of automation and predictive analytics, you need an upgraded ERP system YESTERDAY! Just a few years ago, we could confidently tell clients that although they didn't have a modern ERP system, they could better utilize what they had and make significant progress; however, it is no longer enough.
To thrive post-pandemic, you'll need advanced functionality that can support evolving business requirements. There is no time to wait for critical customer information and key data for decision-making. Instead, you'll need a modern ERP system that supports customer requirements, SIOP (sales, inventory, and operations planning) models, predictive analytics and more. I recently talked with CIO magazine about selecting and implementing an ERP system. I'd love your feedback and insights on this topic.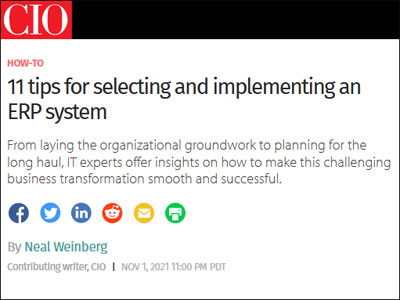 What Should We Consider and/or What Impacts Could Arise?
What better to address your questions on selecting and implementing an ERP system than to read the CIO magazine article.
Please keep us in the loop of your situation and how we can help your organization successfully navigate the current volatility and, more importantly, emerge above and beyond. Several of these types of topics are included in our new eBook Emerging Above and Beyond: 21 Insights for 2021 from Manufacturing, Supply Chain & Technology Executives. Download your complimentary copy.