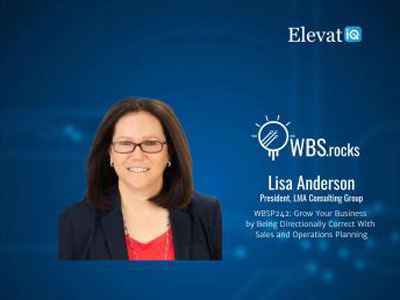 Sales and operations planning is a dark art, and most organizations typically have a very ad-hoc process of forecasting due to its nature. But it's critical to be directionally correct with your plan. Or you might end up missing opportunities or losing customers. Also, planning is more than just creating a model on a spreadsheet. It requires you to come up with estimates and iterate until every external or internal stakeholder agrees with the plan.
In today's episode, our guest, Lisa Anderson, shares her insights on why it is important to be directionally correct with sales and operations planning. She also discusses similarities in the planning for products such as E. Coli and 737 aircraft and how involved they both could be. Finally, she discusses why you might not get much value in being too detailed at the item level and why you will need to take an iterative approach to come with the forecasts.
For more information on growth strategies for SMBs using ERP and digital transformation, visit our community at wbs.rocks or elevatiq.com. To ensure that you never miss an episode of the WBS podcast, subscribe on your favorite podcasting platform.
Originally posted on WBSRocks.