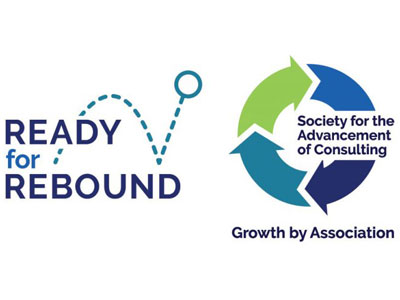 What do key business leaders think is next? That was the subject of one of the sessions at the premier conference for consultants. If you are a consultant and want to thrive (instead of having fits and starts as is the norm), this organization is a must! We gathered virtually with colleagues from at least seven countries around the world and had an array of outstanding speakers. We talked about how to help our clients take advantage of the rebound.
We heard from executives in building and construction products, healthcare, and non-profit as well as experts in collaborating across borders, subscriptions, scaling up and much more. The themes of talent, digitization, resiliency, sustainability, and innovation rose to the top. Are you thinking about how to thrive during the rebound?
One Tip to Implement This Week:
Simply thinking about these themes and how you should apply them can go a long way towards success. Thus, I will provide a few key insights to ponder.
The Great Resignation: There is a LOT of conversation about this topic. 11.5 million people quit their jobs during April, May and June, and this has been outdone by August's numbers of 4.3 million in one month alone! Also, 48% of people are actively considering leaving, and it is estimated that 1 in 4 will do so within 6 months. If you are to succeed, you must retain, develop and attract people.
Turn data into insights: I loved this phrase that the Global CIO of Abbott and completely concur. There is no doubt about it that clients are FAR more successful if they can use the mountains of data available in today's environment, decipher meaningful insights and turn into strategies and actions.
Innovation: Are you involving your people in thinking outside the box for creative ideas and strategies to make meaningful change to your organization, your customers and people's lives? Engaging your people in the future is essential to thriving during this rebound.
Supply Chain: Of course, I love that manufacturing and supply chain is gaining appreciation throughout the world. There are widespread shortages of people at each step in the supply chain from ports to transportation to warehousing as well as shortages of equipment, space and much more. Are you proactively managing demand and supply with SIOP? If not, you will certainly be left behind.
The bottom line is we have to be more proactive, innovative and collaborative to thrive during and post the rebound. Please keep us in the loop of your situation and how we can help your organization successfully navigate the current volatility and emerge above and beyond. Several of these types of topics are included in our new eBook Emerging Above and Beyond: 21 Insights for 2021 from Manufacturing, Supply Chain & Technology Executives. Download your complimentary copy.