In recently talking with the US Glass Network, the constant state of supply chain disruption was in the forefront. In fact, the White House launched a supply chain dashboard to track progress. However, if you are hoping the supply chain will realign on its own anytime soon, unfortunately, it will NOT happen. The ports are likely to show less container ships waiting to be docked; however, it doesn't mean there are less container ships. It just means they have slowed down to minimize congestion and environmental impacts outside L.A. and Long Beach (and will take longer to arrive, extending ocean transport lead-times).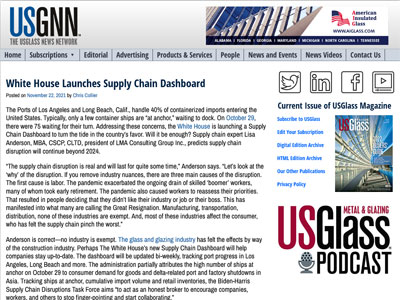 This was addressed in a press release along with specific actions being taken at the DMV to encourage new truck drivers. The bottom line is that the supply chain is a system of systems. You cannot solve the misalignment by addressing one part of one link in the supply chain. Instead, the supply chain is only as strong as its weakest link. In this case, if the ports could add people to run around-the-clock (which is chock full of challenges), required equipment such as chassis would need to be available at the 'right' time in the 'right' place, truck drivers would need to be willing to wait (decreasing their profit with every delay) to go to the 'right' terminal at the 'right' time for the 'right' product, the warehouses would have to have available space, workers to unload, empty containers would have to find their way back to Asia (and out of yards throughout Southern CA) etc……. And this is just the partial list of requirements to realign the supply chain assuming customers do NOT change their mind to further shift the supply chain requirements. Given this situation, the key question everyone asks is "When will the madness stop"?
One Tip to Implement This Week:
It is time we accept that you don't realign a global supply chain working in silos, and you don't realign a global supply chain quickly. Instead, we need to flip this situation on its head and create a resilient and collaborative supply chain supported with proactive planning with a resilient SIOP / S&OP process (sales, inventory and operations planning).
In most situations, it will be essential to do a quick assessment of your manufacturing and supply chain operations, compare it with your strategic objectives and build a roadmap and path forward. START down this path today by completing a rapid assessment of your end-to-end supply chain and associated integrated business planning processes (SIOP/ IBP).
Please keep us in the loop of your situation and how we can help your organization with these objectives to leverage the opportunities that will arise post pandemic. There will be more winners created than at any other time than since emerging from the Great Depression. Several of these types of topics are included in our new eBook Emerging Above and Beyond: 21 Insights for 2021 from Manufacturing, Supply Chain & Technology Executives. Download your complimentary copy.