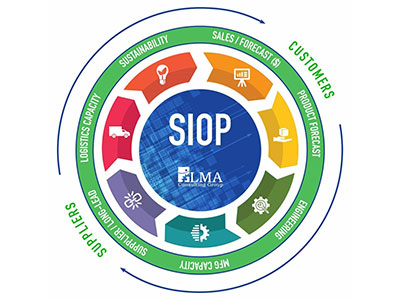 In the last month, clients have been proving the critical importance of SIOP (Sales Inventory Operations Planning), also known as S&OP or IBP (Integrated Business Planning) time and again. From process (such as food & beverage), job shop (such as aerospace) and ETO (engineered-to-order such as windows & doors) manufacturers to value-add distributors (such as lawn & garden tools), the SIOP process brings focus to the appropriate areas to align demand with supply and ensure execution success. SIOP spans the end-to-end supply chain and includes resources from Sales & Marketing to Manufacturing, Engineering and Supply Chain to Finance & Accounting.
How Does the SIOP Process Work?
The SIOP process facilitates a monthly cadence that starts with the sales forecast and demand planning process, translates those requirements into a manufacturing and supply chain plans, and highlights critical decisions and actions that need to be taken to support the successful execution of those plans. The process results in a predictable revenue plan, a reliable operations and supply chain plan, and a resulting inventory and profitability forecast. The process enables customer and product profitability reviews, make vs buy decisions, and it facilitates the assessment and actions surrounding supply chain risk. To learn more about how to use the process to achieve profitable growth, read our book, SIOP (Sales Inventory Operations Planning): Creating Predictable Revenue & EBITDA Growth.
SIOP Results
Clients gain substantial results by staying committed to a SIOP process. We frequently hear "we already discuss these topics". However, the organizations that follow a strict cadence in demand and supply reviews, involve executives in the process and communicate across the organization find opportunities and pivot to what's coming long before those clients that do not follow a SIOP process. The bottom line is they change from reactive to proactive, and bottom line results follow (profitable growth, accelerated cash flow, high customer service levels, operational efficiencies, etc.).
If you are interested in reading more on this topic:
Predictable Revenue & Resilient Operations for Manufacturing Success