As several CEOs lament continually and as Steve Erickson, president of Corona Clipper, Inc. and UK Business Unit Group, said in our 2019 predictions document, talent is a hot topic in today's tight labor market. Perhaps it is time to put a bit more thought into our talent.
As a consultant who works with organizations from a few million in annual revenue to multi-billion dollar conglomerates, it is quite clear that talent is an issue across-the-board. It doesn't matter the industry, the size, or the ownership (private equity, publicly traded or closely-held). Talent is an issue that is top of mind of every executive interested in growth and innovation. The trick is whether you just think about talent or are willing to invest in talent. Which are you?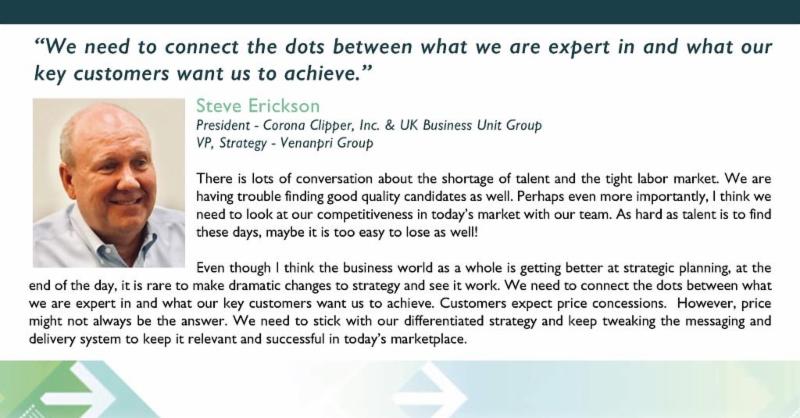 Certainly, those who invest are far more likely to retain top talent and develop new talent. In zero unemployment markets, there is something to be said about creating your own talent. If you aren't focused on this topic, it is quite likely the competition will steal your talent away.
There are many ways to invest in talent:
Provide mentor opportunities – if your organization looks for ways to support the growth of employees with mentors, you are bound to be more successful than the norm. In our experience, the best companies realize that people need to learn through practical application and mentoring provides this opportunity.
Invest in leaders to encourage continuous coaching – a yearly review is quite useless. Who can remember what happened that long ago and understand how to improve or build on a strength? Instead, I found 90 day one-on-one performance conversations with a limited number of objectives to do the trick. Continuous feedback and investment of time can go a long way. But let's not expect leaders to know how to conduct these sessions if we haven't invested in them. Remember, it trickles down hill.
Provide training opportunities – search for training topics that will supplement what your employees should understand. For example, any employee in operations and supply chain should take APICS courses to understand the fundamentals of supply chain and operations management and related principles. If nothing else, it will provide the body of knowledge and associated language.
Provide experiences – in larger companies, there might be job rotations or overseas assignments; however, no matter the size, there are cross-training opportunities as well as enabling visits and collaborations with customers, suppliers, systems and technology providers, consultants/experts and other partners.
Allow the freedom for experimentation – to encourage new ideas and innovation, it is important to design programs that educate employees as well as provide a framework to try out new ideas. In our consulting travels, we find that employees who are allowed to test new ideas in a safe zone feel invested in.
Address poor performers – Instead of ignoring your poor performers because it is an unpleasant task or you are worried about repercussions, proactively address them. Work with them to turn them around or move them out of the organization, and you'll unleash your top talent.
Why not merely increase your engagement by investing in your already-existing talent? According to all the surveys, engagement is at horrific levels in the vast majority of organizations yet engagement is key to driving performance. It doesn't take a rocket scientist to figure out investing in your people is not only common sense but it can do more good for your bottom line than almost anything else. The key is to not treat investment as throwing money at an issue but instead seeing it as a priority. Let us know what ideas you have to engage your most critical assets.