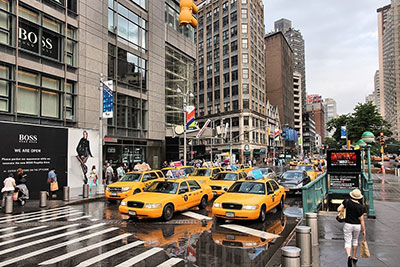 Prior to Uber, a medallion (a transferable permit that allows a taxi driver to operate) cost $1 million dollars in New York city. It was a powerful permit with substantial value. After Uber started up, the low point for a medallion was around $25,000. That is a 40-fold reduction in perceived value! Alternatively, Uber brought customer service up several notches, added customer value and growth exploded. Customer service mattered.
On the other hand, although Uber exists in Japan, it is not well known. Taxis continue to rule the road. Why? This is because taxis are clean, efficient, and provide value. Uber wasn't filling a gap in perceived customer service deficiency.
Fast-forward several years, and the current value of a medallion is around $137,000. It is up 4-fold yet remains less than 20% of its peak value. Could this be related to service? Absolutely! I used to take Uber or Lyft home from Ontario airport. However, the last 3+ times, it took forever to get a driver, it cost a lot, and it was a frustrating experience with poor customer experience. Taxis are starting to look more reliable and faster. I decided I'd rather drive and pay for parking for more reliable and quicker service for close to the same price. If this spreads, the value equation will continue to change.
How does this boil down? Customer service matters and can drive millions to the bottom line.
Customer Service Rules
The best clients prioritize customer service and customer success. A superior customer experience will create customer loyalty. As the world becomes more volatile, customer loyalty will matter more than ever before. How can you distinguish yourself from the competition? Both simple and advanced strategies can be incredibly effective.
OTIF (on-time-in-full): Although OTIF seems like a no-brainer (after all, who doesn't expect products on time), we've seen many client examples of significant business growth and success stemming simply from "doing what you said you would do". Starting with the simple strategies can go a long way.
Quick deliveries: Amazon has proved that quick delivery has value. When my Mom (who has never ordered directly from Amazon since she calls me to place orders) thinks next day delivery is 'late', you know quick delivery has become the standard.
Reliability: Beyond OTIF and delivery performance, ensuring your products and services are reliable is important. This includes receiving the expected quality in product and service and communicating issues upfront.
Going the extra mile: There are countless examples of employees going the extra mile. For example, when my car broke down, my mechanic picked me up and took care of my car. When I asked for something a restaurant didn't have, they made it anyway. And I could keep going with endless examples.
Customer collaborative programs: We worked with customers to develop processes to figure out what their customers' needed, where their customers' needed it, and when the customers' needed it (collaborative ordering, vendor managed inventory). In essence, our customer took over the ordering process and made sure their customer's distribution centers/ branches had the right products at the right place at the right time to provide excellent service while minimizing inventory and product costs (production, transportation, distribution, etc.) for the customer and supplier. A win-win.
New products: Bringing products to market before customers realize they need those products can be risky yet transformational. Just think about the examples. When Toyota wanted to introduce vans in the U.S. market, they drove vans across the country to see what customers might need that they wouldn't realize or mention in a customer survey. Who knew they needed that cup holder or USB port before they had it? Similarly, who knew they needed an iPhone or even an iPod when walking around with a Sony walkman?
New services: Figure out what would provide value and what your customers need even if they haven't requested it or thought about it. Pay attention. Who knew they needed an Uber before Uber existed? Anyone who was picked up in a dirty taxi with an unfriendly driver could figure it out.
Companies that follow these simple and advanced strategies add value for their customers. They will grow faster and more substantially than their competition, and they will add more profit to their bottom line. In fact, they will add more profit to their customers' bottom line as well.
Please contact us with your stories, issues, and ideas on customer service. And, please keep us in the loop of your situation and how we can help your organization prepare to thrive and mitigate your highest risks. SIOP (Sales Inventory Operations Planning) is one of the strategies and toolsets to help you achieve customer service objectives. If you cannot get ahead of changing conditions and needs, you won't be able to provide a superior customer experience. Learn more about this strategy in our book, SIOP: Creating Predictable Revenue and EBITDA Growth.