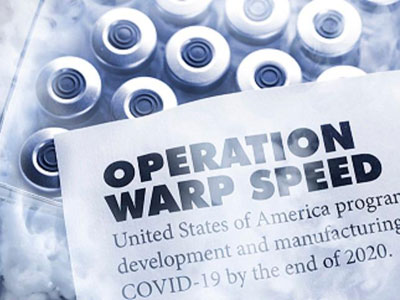 If you aren't seeing the end-to-end supply chain as strategic, you will miss your opportunity to get ahead of the competition and grow as rapidly as you otherwise could! How quickly can you scale with increasing sales volume? We wouldn't have made such substantial progress in reducing the impact of coronavirus if we didn't have 3 vaccines approved and rolled out in less than a year whereas they typically would take 5-10 years. More importantly to the topic of the supply chain, as soon as they were approved, they were immediately available.
Operation Warp Speed took many actions, and 3 key ones include:
Manufacturing capacity built in anticipation of future demand: Plants were built, expanded, and additional manufacturing partners were identified.
Proactively prepared for a disrupted supply chain: Equipment was expedited, critical suppliers were identified, supplies purchased ahead and deliveries expedited.
Proactively planned for workforce needs: Hiring and training in advance, supported by visa approval for key technical personnel and DOD personnel filling in gaps of quality control personnel.
What Should We Consider and/or What Impacts Could Arise?
I collaborate with a group of top notch global consultants with an expertise in supply chain and operations management, and we wrote an eBook on just this topic – Thriving in the New Business Environment: Why the Strategic Supply Chain Matters. Let me know what you think. In addition, at a minimum, think about what you should do NOW to scale successfully while remaining resilient for changing conditions. Consider a few of these ideas:
Pursue Sales, Inventory & Operations Planning (SIOP) to better align supply and demand.
Put extra energy into forecasting sales and creating a demand plan. Make sure your demand plan incorporates changing customer conditions and evolving product and service needs.
Create flexibility and scalability in your manufacturing and supply chain operations. Cross-train, create partnerships to scale up or down quickly etc.
Identify critical suppliers, logistics partners and materials/ ingredients and proactively partner to secure priority needs.
Read more about these types of topics in my eBook, Emerging Above & Beyond: 21 Insights for 2021 from Manufacturing, Supply Chain & Technology Experts. Gain ideas and strategies to scale successfully. If you are interested in gaining an expert assessment and path forward tailored to your company, please contact us.