October 17, 2017
I have been attending APICS 2017 in San Antonio, and there is LOT of talk about the digital transformation of the end-to-end supply chain. I listened to executives from J&J, Cisco, Microsoft, Whole Foods, Caterpillar, and innovative high-tech, rapidly growing companies, and the consensus is to pay attention to technology. There is an opportunity to learn about the latest technologies such as robots, IoT, artificial intelligence, autonomous vehicles, blockchain and more at APICS Inland Empire's executive panel and networking symposium on "Leveraging Technology for Supply Chain Success". More importantly than understanding these cutting edge technologies is thinking about how to apply them for end-to-end supply chain success. Are you taking the time to think about the impacts to your business and your career? Join us on Nov 4th…..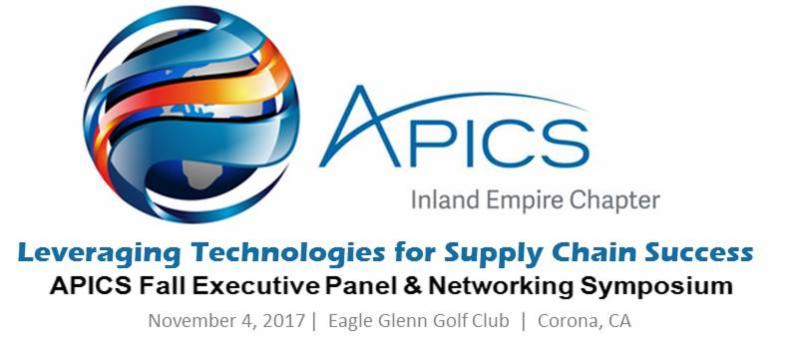 What Should We Consider and/or What Impacts Could Arise?
To get the juices flowing in advance of this not-to-miss event, I'd start thinking about the potential impact to your business. For example, IoT has a lot of benefit to predicting machine maintenance needs; however, it can go far beyond this simple impact. I'll dedicate another article to just this topic as the speaker from Microsoft had several compelling examples which will not only radically change how we perform jobs but it will also radically change the types of people we look for and the background/ training that might give an interested candidate an exciting job.
Blockchain can have an enormous impact when considering the increasing need for transparency and risk mitigation with all the security issues that have occurred lately. The potential impact could be enormous for connecting partners and transactions in the end-to-end supply chain in a fast, secure and informed way.
Autonomous vehicles for all intensive purposes are "here". It will take some time with testing and regulations but there will be interesting impacts when considering some of the issues that plague transportation today. For example, drivers cannot drive more than 11 hours a day; however, an autonomous vehicle could. What would that mean for the speed and cost of deliveries?
Join us to learn about these technologies and more.