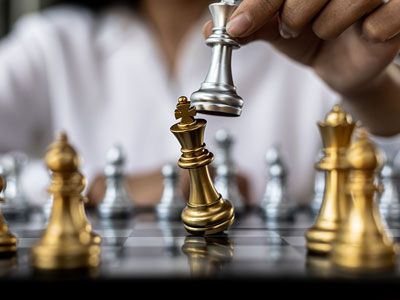 Our clients continue to experience an unprecedented level of volatility and complexity. The common themes include:
Continued supply chain disruptions: From computer chips to commodities to everyday components/ materials, clients continue to experience shortages and/or extended lead times.
Continued challenges in finding people: Whether you are looking for a production employee or a Director of Supply Chain, no client is having an easy time finding talent. The best realize they must keep the top talent they already have!
A Focus on Taking control: Whether you are reshoring, nearshoring, sourcing new suppliers, adding backup suppliers, offloading or partnering, the best are taking control of their ability to support customers.
Understanding the customer: Customers' needs are evolving with changing business conditions. The best are staying on top of their ideal customers' changing needs and preparing for where the puck is going, not for where the puck is.
Preparation for Inflation & Deflation: There is no doubt clients are experiencing increasing prices yet there are also deflationary pressures. The successful are preparing for both in a smart way so that they can take advantage of opportunities yet not be weighted down in cost and inventory.
Opportunities Abound: Because there is a wave of owner operators looking to sell and stodgy organizations are cutting costs, slashing inventory and delaying investments and new products with worries over what's coming, opportunities will abound for those prepared for growth and investing in technology, automation and talent to ensure the growth can be successfully delivered and profit flows to the bottom line.
Winning the Game
The most successful clients are emerging with a winning formula:
Retaining, developing, hiring & supplementing talent to think three moves ahead (as in a game of chess)
Providing this visibility to the organization and key partners (customers, suppliers, trusted advisors)
Making the appropriate strategic decisions, investments, and allocation of resources to support the path forward
Ensuring the successful execution of these plans – after all, 80% of success is in execution
Incorporating sustainability so that the processes will carry forward into the future
How Can LMA Support You?
Our ideal clients are thinking about these strategies for winning the game. Our best expertise is in helping clients to:
Determine how to think three steps ahead – develop processes to look ahead, evaluate strategies and facilitate key decisions for creating your future (instead of reacting to your future) with supporting processes such as IBP (Integrated Business Planning), also known as S&OP (Sales & Operations Planning) or SIOP (Sales, Inventory & Operations Planning)
Partner with the client to execute "make it happen", also known as S&OE (Sales & Operations Execution) in technology circles.
Leverage processes, tools, ERP systems and related technologies (automate what makes sense and manage exceptions)
Teach the client to fish.
We prefer complex environments (ETO, CTO, collaborative ordering/ VMI, combined BTB/ BTC, high-tech/ high-touch, etc.) which lead us to industries such as building and construction products, life sciences/ healthcare products, aerospace and defense, industrial products, and food and beverage. We are driven by our passion for advancing manufacturers.
And we are thrilled to have recently been included on key lists:
Please keep us in the loop of your situation and how we can help your organization thrive during these times of volatility and disruption. There will be more winners created than at any other time than since emerging from the Great Depression. To gain additional ideas and insights on how to best navigate these volatile times and thrive, read our new eBook Thriving in 2022. Learning from Supply Chain Chaos. Download your complimentary copy.