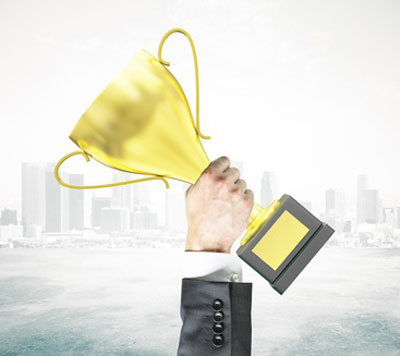 The Spring Executive Panel & Networking Symposium focused on emerging supply chain trends and acknowledged those emergent leaders contributing to manufacturers, supply chain professionals and distributors to improve their education, lead times, forecasting, data analysis and supplier relationships.
The Inland Empire Chapter of APICS, the leading association for supply chain and operations professionals, motivated attendees with its expert panel presentation and discussion on investigating and predicting supply chain trends at its Spring Executive Panel & Networking Symposium: Emerging Supply Chain Trends held April 30, in Corona, Calif. In addition to expert presentations, stimulating dialogue, and industry networking; APICS-IE also recognized individuals and companies for their contributions to the association and improving members' knowledge base. Six awards were given in appreciation of outstanding leadership and partnership — outstanding board leaders, Tony Martinez and Parizad Sethna; outstanding partner, Monster Energy Company; outstanding APICS partner, APICS San Fernando Valley; outstanding instructor, Susan Franks; and business leader advocate, Kusum Kavia.
While the Spring Symposium's focus was on recognizing industry innovators, achievers and those who have contributed to APICS-IE's success in providing value to the manufacturing, distribution and transportation communities; it also challenged attendees to think more strategically about their supply chain.
Award recipients recognized the importance APICS-IE plays in helping area companies stay current, getting access to education and developing human resources. "Riverside County is known for its large manufacturing hub and having the resources that APICS-IE offers is very valuable to our region," explained business leader advocate award winner Kusum Kavia of Combustion Associates, Inc. "Not only can talent be obtained through APICS-IE, but manufacturers, such as my company CAI, can send their employees for training to this organization. APICS provides value-added supply chain support including research and educational tools that is critical to all manufacturers."
At the core of APICS-IE principles is education and training of its members to help them better perform on the job for career and company success. Through its support of Student Case competitions, webinars and training, APICS-IE continues to be the destination for skills development, certification and training. Acknowledged as outstanding instructor HourGlass Consulting's Susan Franks, CPIM, CSCP, Instructor Training, and AIS Master Instructor stated, "It is always great to be asked to work with this dynamic chapter and be a part of a strong instructor team. This symposium was one of the best-focused on key issues facing today's global supply chains with great speakers, on target with their comments, and very informative."
VP Special Projects for APICS-IE Tony Martinez, CPIM, CIRM, was valued for all the contributions he makes as a board member. "This was unexpected, but I want to thank you for the opportunity to work with such a great group of people. The combination of teaching aspiring operations/supply chain practitioners through CPIM and Principles classes, and supporting students in Operations/Logistics majors at local colleges through scholarships, and the Student Case Competition, is a very satisfying use of my operations/supply chain experience."
Partnerships are extremely important and many of the APICS chapters work together to leverage resources and provide expanded opportunities to its membership base. Thornburg Consulting's Michael Thornburg, MBA, CPIM President, APICS San Fernando Valley Chapter, accepted the outstanding APICS partner award on behalf of his chapter. "I am honored to receive this award on behalf of APICS-San Fernando Valley. This award is an outstanding example of what we strive for, namely Developing Professionals. Being recognized by the professional community is an unexpected and greatly appreciated surprise for all of us at APICS-San Fernando Valley. I am looking forward to future partnering opportunities with APICS-Inland Empire."
Expert panelists included Dr. Chris Gopal, Senior Fellow at the Peter F. Drucker and Masatoshi Ito Graduate School of Management, Claremont Graduate University, and Executive Director of the Drucker Center for Supply Chain & Logistics; Brian Reed, VP of Transportation & Customer Service Niagara Bottling; Roy Paulson, President, Paulson Manufacturing; and C.J. Nord, ISM Committee Chairperson for the Port of Long Beach Working Groups, and Supply Chain Manager at California Faucets shared data and trends and explained why companies should be forward thinking and respond to slow moving stock, supplier reliability, lead times and forecasting.
Attendees also had the opportunity to ask questions, network and benchmark with area companies and build contacts within the manufacturing and distribution community to also help them build their career.
Looking ahead to the APICS-IE Fall Symposium — the theme will be Navigating Global Supply Chain and will be held Saturday, October 29, 2016, at the Eagle Glen Golf Club in Corona, Calif. Fees to attend the event from 8:00 AM to 11:30 AM are $15 for members, $25 for non-members and students are free. Breakfast buffet is included.