November 19, 2018
Since it is Thanksgiving week, it seems only appropriate to talk about giving thanks. A BIG THANKS to these people/ groups who have been instrumental in our success – and making it an enjoyable journey along the way: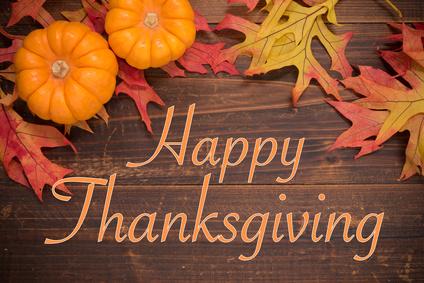 Our clients – as much as our clients select us, we also select you. As my consulting mentor says, it is not worth the efforts you have to go through to run a successful consulting practice if you don't love what you do and work with people you respect and enjoy! Thus, a BIG thanks to you!
Our associates – when I first started consulting, I dreaded the thought of how to bring someone into a client successfully, and after many years of "collecting good people", I love it!
Our trusted advisors – just as our clients need experts surrounding them, so do we. I prefer to stay out of trouble! And we are only as good as the people surrounding us.
My APICS Board of Directors & key colleagues – we provide exceptional value to our local manufacturing and supply chain communities, and there is NO way I'd do it without you.
My ProVisors executive committee & ONT group – what an invaluable network of trusted advisors. LMA is exponentially more successful with you!
My global consulting strategy group – nice that I have your support (and kick in the butt) to stay the course, continue to grow and provide more and more value in my consulting practice.
And my other professional associations such as the Inland Empire Economic Partnership (IEEP), the Manufacturers Council of the Inland Empire (MCIE), Harvey Mudd executive roundtables, Renaissance Executive Forums group, the University of LaVerne advisory Board for the School of Business and Public Management and more.
Students – for keeping us fresh and engaged, from CSUSB, Cal Poly, UCR, Drucker, Harvey Mudd, Pomona College, Univ of LaVerne, Norco and more.
My SAC business partner, Linda Popky – we have created a value-packed organization for consulting growth, and I've learned a lot along the way that has added valued in many other areas of my practice as well.
My parents – without them, I would never have started a consulting firm because I would not have known that anything was possible (as detailed in my backstory) and I would have listened to all those people who said a young woman couldn't run manufacturing, have a seat at the table with private equity backers or start a consulting firm from the ground up.
Friends & former colleagues – speaking of starting up a consulting firm while knowing close to no one since I traveled 60% of the time as VP of Operations & Supply Chain, I certainly appreciate these valued colleagues in helping to make it possible.
One tip to implement this week:
Who do you appreciate? More importantly, do they know? I'm often surprised by how what we think is obvious is NOT to the other party. It can go a long way – why not think of at least one person to thank!
Have a Happy Thanksgiving!