The situation is not good. From Southern California to the Midwest to Ireland or Latin America (let alone Asia), the supply chain remains in chaos. We've attended several conferences, worked with clients, and collaborated with colleagues and trusted advisors related to e-commerce, logistics, manufacturing and the supply chain, and our takeaways aren't telling a good story:
Bullwhip effect/ roller coaster ride: The supply chain remains out of alignment, spurring further disruptions as companies try to figure out how to get the right products to the right place at the right time while not losing their shirts in terms of profitability and cash flow. The volatility in demand and supply throughout the supply chain is unprecedented.
Cargo backup-up's, historic dwell times, & empty containers everywhere: Empty containers remain a BIG issue, creating chassis shortages and furthering misalignment. There are also rail delays, labor shortages, productivity issues, port congestion, and a host of other issues.
E-commerce is insane: E-commerce is expected to grow to 26% of retail sales by 2025 and is already overwhelming transportation/ last mile, warehousing (no space is available), labor and/or automation needs (as it is far harder to ship pieces than boxes), etc.
Gas prices: Not only is inflation running rampant, but increasing gas prices are driving truck drivers out of business. In the last two days, I've heard from multiple sources that truck drivers are hanging up their hats especially those supporting the agriculture industry as they cannot stay in business with the price increases.
Regulations driving businesses out: In high-regulatory states such as California, there are dizzying regulations coming down the pike. Worse than the number is the feasibility of the supply chain to meet the standards by the due date. In many cases, even though there has been tremendous progress and investment, there is no way to meet the regulations. For example, truckers will be dropping like flies as regulations take place as early as 2023. Whereas autonomous and electrical vehicles are progressing but not nearly fast enough to meet these deadlines, and it won't matter anyway as the appropriate infrastructure to support progress cannot keep up.
Shanghai lockdown: Shanghai has been on lockdown for months. Although it is starting to open up, there is an overload of container ships waiting at port. A tsunami will be on the way to U.S. ports shortly.
L.A. & L.B. port labor negotiations: Although L.A. and L.B. were ranked least efficient, there are concerns of more demands from the labor unions as volumes have been robust. The situation could get worse with the labor negotiations, further delaying cargo at our busiest ports (supplying 40% of the products to the U.S.). Customers are moving freight east in case negotiations go awry; however, it is creating a backlog at other ports and making a tiny dent in the incoming tsunami.
Russia-Ukraine war impacts: Any products and agriculture items produced in Russia and Ukraine are going into a state of chaos.
Baby formula shortages: Although the Abbott plant is starting to come back online, there are no quick fixes to suddenly produce (or ship from Europe and Australia) 3-4 months of production (equating to 40% of U.S. volume). It will take time.
And now there is a tampon shortage: Due to shortages of raw materials, labor, and other factors, the store shelves are sparse in the tampon aisle, spurring panic buying of favorite brands, which further exacerbates the issue.
And the list goes on….. There is no end in sight. Successful companies will not wait for the global supply chain to realign. Unfortunately, you are only as successful as your weakest link in the supply chain.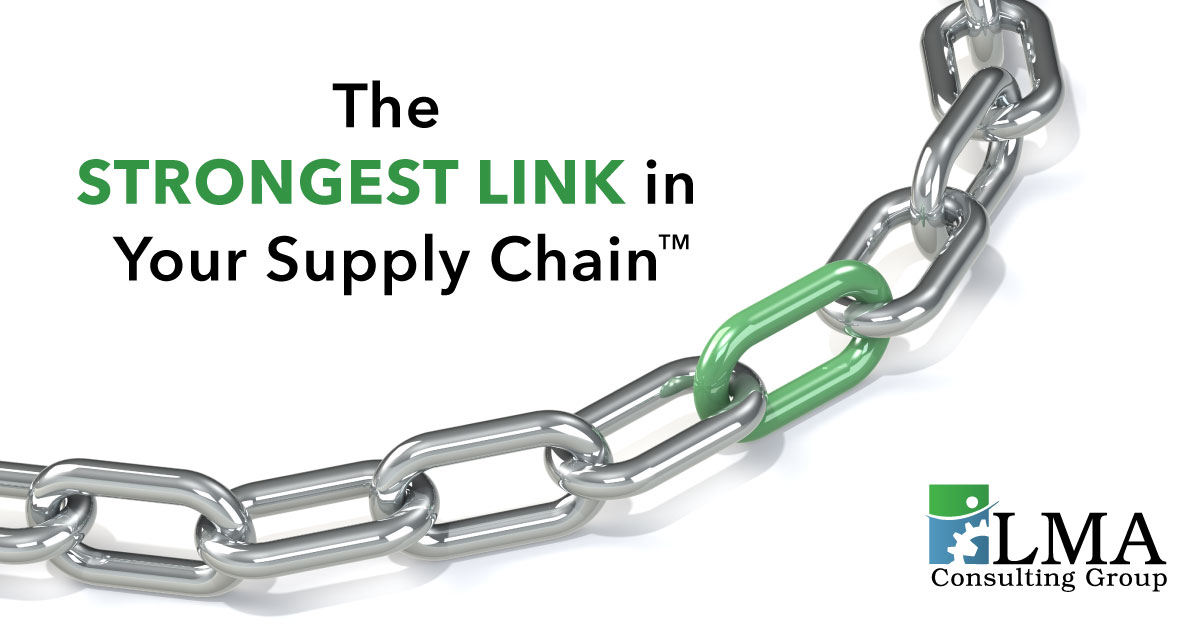 The Strongest Link in Your Supply Chain
The successful companies will not only strive to be the strongest link in your supply chain, but they will ensure that the weakest link doesn't send their customers to the competition. You have a once-in-a-lifetime opportunity to secure your position as a market leader and thrive for years to come, if you choose to take advantage of the opportunity and start to act NOW. The proactive, innovative, and collaborative companies that see opportunities that others miss, invest (in people, processes, technologies, trusted advisors, equipment, etc.) when others don't, and are willing to take smart risks when others shy away will be successful. Our belief is that these companies will lead for decades in the future. Are you interested? If so, become the strongest link in your supply chain and take control of your future.
How Do We Take Control?
There are several strategic decisions you should be evaluating immediately:
Which customers do you want to keep? Which do you want to eliminate?
Which customers do you want to target?
Which products and services do these target customers need currently? More importantly, what will they need in 1, 5, and 10 years?
Are you innovating and collaborating with customers?
How should these strategies translate into pricing and priorities?
Which products do you want to control? Which are strategic to your customers?
Which new products and services should you design and develop to support these needs?
How can you reduce what took 4 months to 4 hours? (across the board)
Which products should you rationalize?
Where should you locate your plants to best support your business?
Should you reallocate production among your plants?
Where should you position inventory and capacity in your end-to-end supply chain?
Which suppliers are considered strategic? Where are they located? Are you treating them as a vendor, supplier, or partner?
Are you innovating and collaborating with suppliers?
What risks should you evaluate and address in your end-to-end supply chain?
Should you add, consolidate, or change your distribution network to support your customer needs and to maximize profit?
Should you insource or outsource?
Who are your transportation partners? Are you aligned in supporting future customer needs?
Which systems and technologies do you need to support your future customer and supply requirements?
Are you thinking 3 moves ahead as it relates to your employees? Those with talent will thrive; those without will struggle and decline.
Do you have a Sales & Operations Planning process (S&OP), also known as SIOP (adding inventory into the title) to align your demand with supply, and most importantly, to keep your demand and supply aligned with growing revenue and EBITDA.
Don't spent months evaluating; however, don't jump to decisions and waste precious talent and resources. Instead, perform a rapid yet broad (deep and wide) assessment of your opportunities, your current position, your target position, and the critical priorities to ensure your strategy comes to fruition. Typically, plans don't fail in formulation (although we are in a high stakes time frame), they fail in implementation. What resources will you need to ensure success?
Please keep us in the loop of your situation and how we can help your organization thrive during these times of volatility and disruption. There will be more winners created than at any other time than since emerging from the Great Depression. To gain additional ideas and insights on how to best navigate these volatile times and thrive, read our new eBook Thriving in 2022. Learning from Supply Chain Chaos. Download your complimentary copy.