In thinking about our LMA blog, I finally found time to revamp the categories so that it is easier for folks to find articles on topics of interest. It isn't really something I could outsource since there were too many considerations and scenarios to explain. I got on a roll in the last 10 days and spent countless hours categorizing while watching TV etc., and I'm thrilled it is 90/10 complete!
There are over 1800 blog articles, and so categories definitely help. Let's start with hot topics:
SIOP/ S&OP – Sales & Operations Planning
Data & Business Intelligence
ERP & Related Technologies
Inflation strategies
Reshoring/ Nearshoring
Supply Chain Disruption
Demand Planning
Supply Chain Planning – Capacity, Production, Replenishment, Materials, Inventory, Logistics, VMI, etc.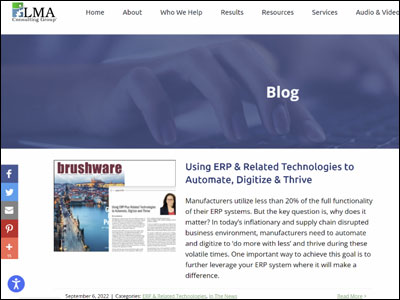 And the Rest….
There is so much volatility in today's business environment, you never know which topic will be most relevant. I'm always interested in feedback.
(In alphabetical order)
Business Processes/ Best Practices
Cost reduction / Margin improvement
Customer Service
e-Commerce & Logistics
Global, Import & Export
In the News – articles, quotes, speeches, etc.
Innovation
Inventory Management
Leadership & Skills Development
Manufacturing
Press Releases
Project Management
Recession-Proofing Strategies
S&OE – Sales & Operations Execution
Strategy
Supplier Management
Supply Chain
Sustainability
Talent/ Skills Gap
Trends/ Future-Proofing
VMI – Vendor Managed Inventory
VUCA – Volatility, Uncertainty, Complexity, Ambiguity
Audio & Video
You'll also find audio & video including Supply Chain Chats, podcasts, interviews, panels, webinars, video clips, and video testimonials.
Your Feedback
What is on your mind? Please let us know, and we'll focus on your topic requests.