September 20, 2020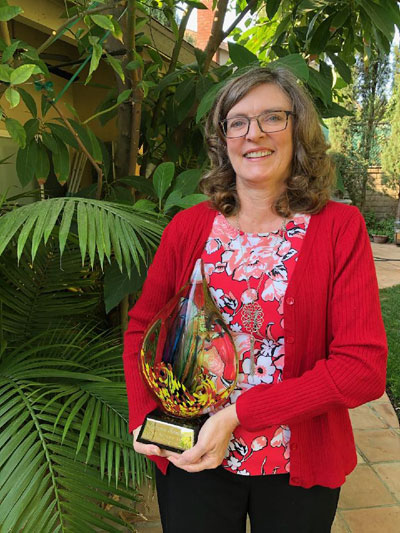 In 2015, we kicked off the LMA Advocate awards to recognize those people who have been instrumental to our growth and success. We started with 10 people to celebrate the 10 years since we started the business and we now add one each year. Although I've learned plenty along the way, one thing I did "right" from the start was "collect" good people. Our LMA Advocates are the "best of the best" who we've worked with through the years. I am eternally thankful and thrilled to work with them. For 2020, I'm excited to recognize Shannon Reininger.
Shannon Reininger and I have worked together for 10 years with clients, as well as with non-profit board collaborations. We worked together at two separate clients. She is well-respected for her hard work, innovative capabilities (always finding new solutions to complex issues) and the value she brings to the bottom line. In fact, a third client brought me on board solely based on her recommendation that LMA was the group to work with to achieve SIOP results. Shannon turned around planning/ production control, materials management, procurement and logistics functions at multiple clients and she never stops. She is one of the few professionals I've met who can manage effectively in turnaround situations, as well as profitable growth scenarios. It stands out in my mind that she not only took on a new area (reverse logistics) to learn the ropes, but she also found ways to work with the team to build morale and drive significant value to the bottom line.
We have also spent quite a bit of time together working on non-profit objectives related to ASCM/ APICS. She took on educating coworkers on the APICS body of knowledge. And, of course, she took it further than the typical instructor to ensure her coworkers learned and could apply the concepts. She has also helped me brainstorm topics such as how to manage cost up the chain in the aerospace industry, how to proactively manage demand in a make-to-order/engineer-to-order environment and many more. Shannon makes a positive, lasting imprint on her work places, colleagues and association members.
One Tip to Implement This Week:
Follow Shannon's lead. Here are a few of the NUMEROUS options you can pursue that pop to mind when thinking of Shannon and her many accomplishments.
Never stop learning: Pursue your APICS certification. Don't be afraid to dive into new topics, try new ideas, attend conferences and brainstorm with colleagues, etc.
Never stop improving: Research the latest trends, test new theories, trial new products, services and processes, implement what works and improve upon what doesn't.
Never waste resources: Always look for ways to maximize benefit, minimize risks, reduce waste and utilize already-existing resources to achieve progress.
Never assume you know it all: Listen to your team's ideas, remove obstacles and help the team turn ideas into reality.
Never lose sight of the customer: Keep your customers and their needs top of mind.
Never stop looking for new solutions: During COVID, Shannon quickly went to her local restaurant to use excess stock in a win-win deal while everyone else followed a panic shopping strategy.
Many of these strategies are simply uncommon common sense and best business practices. Read more about these types of ideas to navigate and successfully emerge post COVID-19 in my free eBook Future-Proofing Manufacturing & Supply Chain Post COVID-19. Please send your feedback and stories. I will them incorporate into a future article, video or interview.
Stay safe & healthy.