April 3, 2017
I participated on the panel, "Professional Pathways in Supply Chain" at the Drucker Supply Chain Forum last week.  Interesting to note that the panel was all women – definitely not typical but nice to see!  I was joined by executives from Walt Disney, Source Intelligence, Intelligent Audit and CSCMP.  It was a lot of fun, and I learned as much as I contributed.
We had some engaging discussions about the future of supply chain and the types of professionals that will be needed.  For details on these topics, please tune in to my recent Profit through People newsletter.  However, one of the keys I wanted to highlight here is the critical need for a broad set of skills in supply chain today.  The end-to-end supply chain is a vast topic (from your suppliers' suppliers through manufacturing and distribution to your customers' customers).  Are you continually learning to stay ahead of the curve?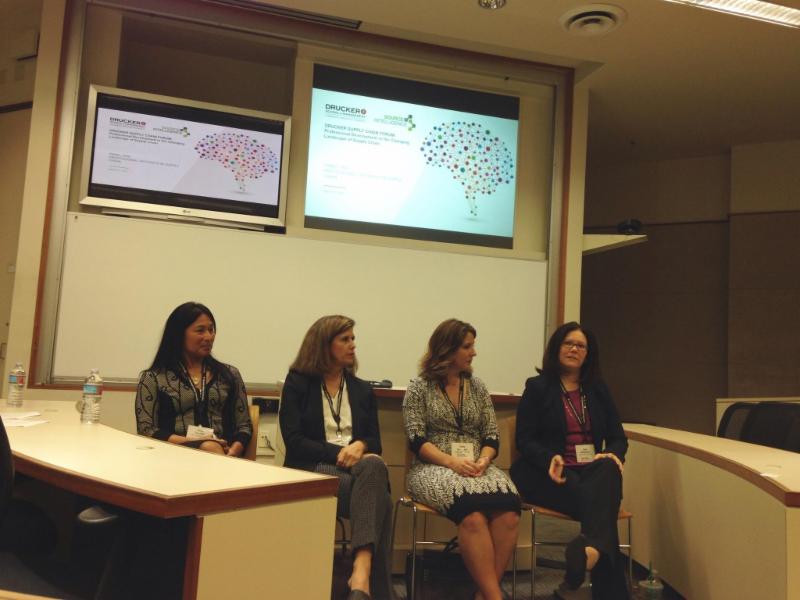 One tip to implement this week:
There is much we can do to learn continually and increase the breadth of our skills.  There are a few immediate steps we can take:  1) Look around you for a mentor and ask him/her to be your mentor or just simply ask for advice.  It is one of the best ways to learn.  I've had several mentors over the years, and they were instrumental in my success.  2) Put yourself in positions where you collaborate with colleagues around you.  There is vast amounts you could learn by talking with your colleagues.  3) Join a trade association and/or find courses to supplement your knowledge.  For example, I am the president of APICS Inland Empire, the premier professional association for supply chain management.  We are continually offering programs such as our executive panel & networking symposium on "Disruptive Innovations in Supply Chain" and classes including the new certification CLTD (certified logistics, transportation and distribution).
Which will you do this week?