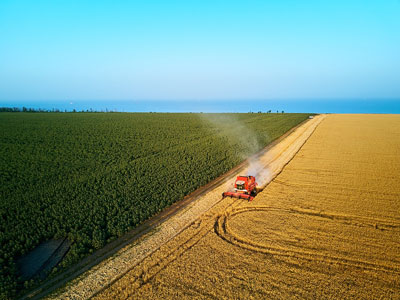 As has been all over the news, the Chinese sent a spy balloon which floated across the U.S. for about a week. According to US senior military officials, it is confirmed that the balloon is tied to a major surveillance program run by China's military. It has politicians and citizens up-in-arms about the potential impacts, and it bolsters concerns about China.
In addition, according to the Wall Street Journal and USDA data, as of December 2020, Chinese investors own almost 350,000 acres of US farmland at a minimum. Unfortunately, there is another 3 million acres without an owner listed, and so the number could be higher. According to the USDA, there has been a 21-25 fold increase since 2010 (depending on whether looking at acres or dollars). Even more alarming is that they are buying farmland by US military bases and other critical infrastructure.
As if that wasn't enough, according to the Wall Street Journal, China is also expanding investments of ports and other infrastructure around the world. It has accelerated in the last decade with recent approval for investment in Germany and Peru. Additionally, China's Belt and Road Initiative (BRI) also puts the Chinese knee deep in infrastructure projects around the world. China also has a law that if anything goes through a server in China (which would involve any companies operating in China), the Chinese government can see it.
Supply Chain Impacts
You don't have to be a rocket scientist to figure out potential supply chain impacts.
SUPPLY CHAIN RISK is abundant for companies with operations or core suppliers (without backups that could ramp up rapidly with replacement volumes) in China.
We have already learned that delays, shortages, and disruptions can escalate quickly. Thus, executives are re-thinking their risk tolerance and supply chain footprint.
What Actions Should Executives Take?
What are executives doing as they evaluate these types of events in relation to their situation?
Rapid Risk Assessment: An immediate risk assessment is vital. Each situation is different. Each company has a different supply chain footprint (customers, manufacturing operations, suppliers, transportation partners, etc.), product portfolio, risk tolerance, etc. Quickly understand your risk. You must assess deep into your supply chain.
Evaluate reshoring: Executives that don't want to be shut off at will (Zero-COVID policies) or take on the many risks of manufacturing in risky countries are reshoring. Any products vital to national security (medications, food, defense, etc.) have to be reviewed ASAP.
Near-shoring/ Friendly-shoring: If your products have a high labor content, there will be concerns about cost. Thus, these executives are reviewing sourcing alternatives, starting with locations closer to their customer base (near-shoring) and friendly to the US, Europe, etc.
Source new suppliers: In some cases, it doesn't make sense to take more control over manufacturing yet if the risks are too high, these Executives are putting a lot of emphasis on finding new /alternate suppliers and backup suppliers.
Know your logistics partners: Perform an assessment on your logistics network. Which risks are inherent? Do you have alternate routes, modes of transportation, 3PL and/or warehouse capacity to store contingency supplies/ products, and backup partners? Can you rely on your backup partners?
Capital & cash: Do you have access to capex (capital expenditures) and the working capital to fund whatever actions you need to take? Smart executives are preparing for investment as needed to support their customers and profitable business growth.
SIOP / S&OP: Smart executives are rolling out Sales, Inventory & Operations Planning programs to get in front of customer demand, how they will fulfill that demand (capacity, capabilities, make vs. buy), and whether they should make changes to their pricing, supply chain footprint, cost reduction programs and other execution plans.
Please contact us with additional ideas and strategies for what executives and supply chain professionals are doing to get ahead of these events. We will succeed working together!
Please keep us in the loop of your situation and how we can help your organization get in a position to thrive for years to come. Several of these types of topics are included in our eBooks. Download your complimentary copy.