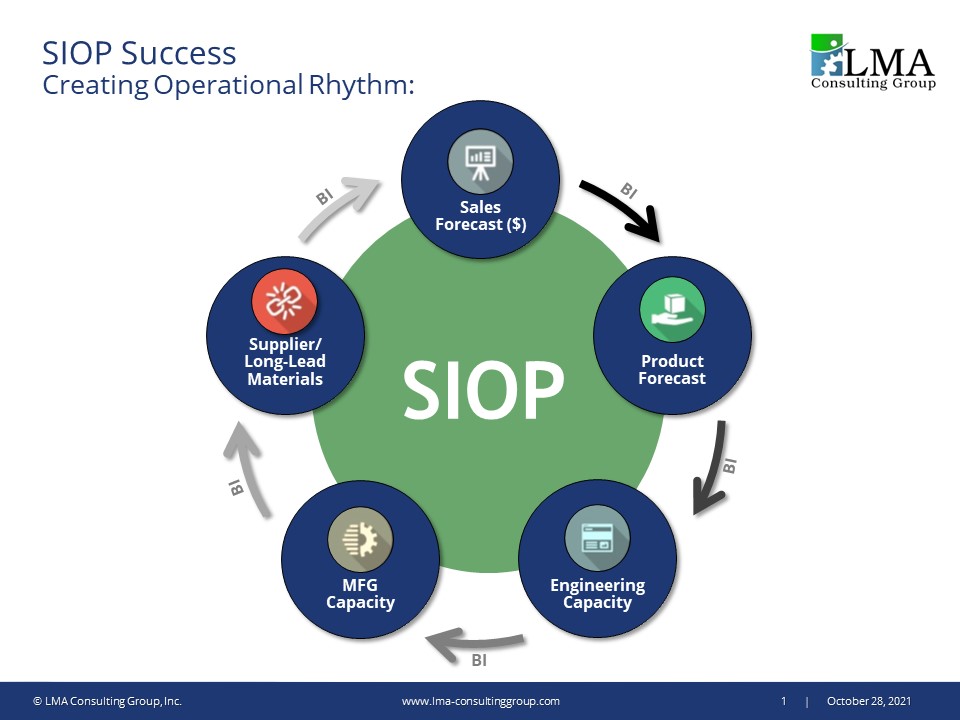 In working with clients across multiple industries including industrial equipment, food and beverage, building and construction products and healthcare products, there is no doubt that clients using a SIOP (sales, inventory and operations planning) and integrated business planning process are pulling away from the competition.
Clearly, we are experiencing extreme demand volatility and supply chain disruptions across the board. It is so bad that the most successful clients are simply losing less revenue than the rest. No one is having an easy time keeping up with demand. Labor shortages, material shortages, trucking shortages, soaring prices and much more is causing further adaptions, creating even more disruption. There are no magic bullets to solve these issues, but one key program that is helping clients far better than their competition is SIOP and Integrated Business Planning processes. Listen to the benefits one of our clients gained with SIOP which is helping them better navigate these crazy times.
As our clients says in the video, in his highly-engineered product company, it was critical that they gain a business rhythm to better balance demand, capacities, and inventory to get in front of the demand of customers and translate that into a sustainable operation. When you have a predictable and sustainable operation, you are more adept at predicting where you'll be at in terms of revenue, margins, and customer delivery performance. If there is one metric that every client has been focused on during these unstable times it is OTIF (on-time-in-full) and how customers are feeling about service, proactive communication and the partnership in general. The answer is in the SIOP process.
As our client says, SIOP is NOT a one-time process, and it is NOT an off-the-shelf solution. Instead, it is a recurring process that requires engagement across the company to be successful. In Schenck's situation, it was important to understand the data, the sources of data and to figure out how to cleanse, connect and utilize the data to make meaningful decisions. We also looked at gaps in processes and systems, and determined how to manually build the connectivity and the systems processes discipline. The success of SIOP is embedded in understanding data, processes, systems, their connectivity or non-connectivity, and most importantly a deep understanding of the stakeholders and how they impact each other. And, of course, the key is execution.
We focused across all functions of the organization including those that touch demand management, master planning and execution.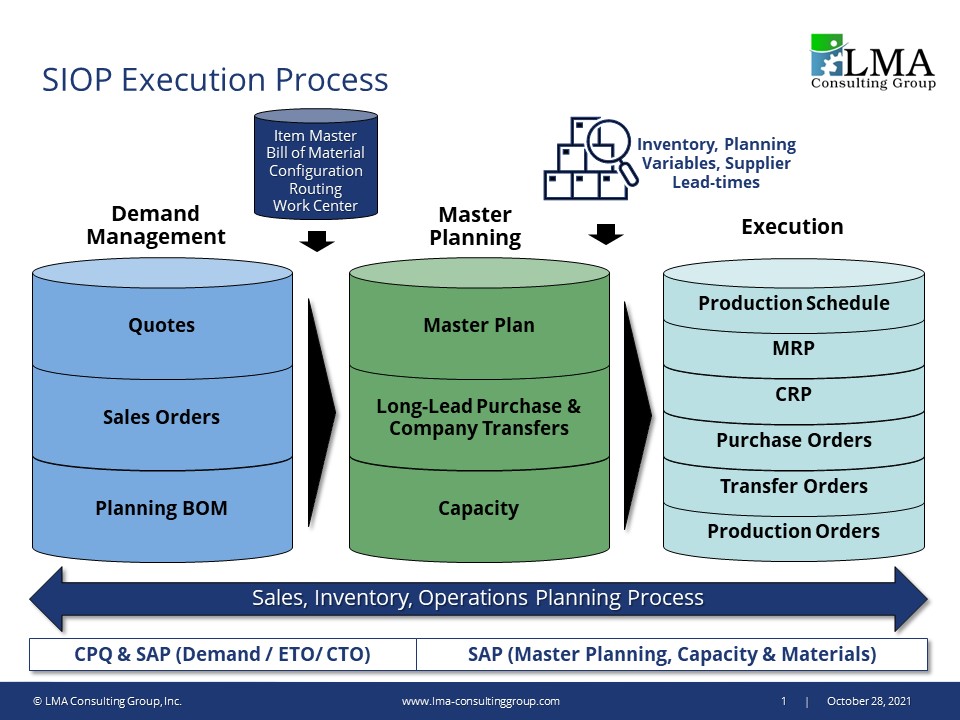 The results were noteworthy:
Sales benefit: Better alignment on sales quotation and order flow to improve delivery performance for customers.
Engineering benefit: Gained visibility of what is coming down the pike so that resources can be planned proactively.
Operations benefit: Gained earlier visibility in the order cycle process and could do front-end planning and build inventory earlier in the production stages, better utilize machines for longer runs and gain better visibility on purchase items so that vendor lead-times could be incorporated without expediting to meet ship dates.
Procurement benefit: Able to look ahead at upcoming demand instead of looking in the rearview mirror to better plan for surges on long-lead items to react and meet customer expectations and better plan capacity in the supply chain.
SIOP is the tool that enables Schenck to get in front of the demand, ensure they have the capacity to support demand, and that they have the right suppliers, resources etc. The next step is to evolve the process into a systemic solution through a BI implementation.
SIOP aligns demand and supply to enable growth with increased customer service, profitability and accelerated cash flow. Refer to our blog for many articles on SIOP and read about how to implement SIOP in our book, SIOP (Sales Inventory Operations Planning: Creating Predictable Revenue & EBITDA Growth). If you are interested in talking about what it would take to purse the SIOP journey in your business, contact us.
Did you like this article? Continue reading on this topic:
Global Supply Shortages & Why SIOP Matters